Christmas Dinner (An Ultimate Recipe Swap)
We are a participant in the Amazon Services LLC Associates Program, an affiliate advertising program designed to provide a means for us to earn fees by linking to Amazon.com and affiliated sites. We participate in other affiliate programs as well. For more details, please see our disclosure policy.

Christmas dinner can be as fancy as a huge turkey and all the trimmings. Think A Christmas Carol after Scrooge has repented.
Or it can be as simple as a few boxes of takeout from your favorite Chinese food restaurant. Think A Christmas Story after the dog ate the aforementioned turkey.
Whatever you choose, it can be special if you make it fancy, make it a tradition, or make it fun.
Make it fancy
Pull out all the stops and serve dinner on fancy china and real silver. Add some drippy candles and table linens. Even takeout or pizza takes on a different feel when it gets dressed up.
Serve bubbly beverages. Kids will love sparkling apple cider or for a less expensive version, combine juice concentrate with club soda for a Fruit Sparkly.
And as if dessert needed any help, there are lots of small ways to make dessert dazzling.

Make it tradition.
Sometimes what makes a meal special is the consistency of the tradition and the memories attached to it. For instance at our house, we have these Out of This World Scalloped Potatoes. They are made of just potatoes, cream, half and half, butter, and salt and pepper. Oh my!
In our younger days, FishPapa and I enjoyed this dish, the whole pan to ourselves, on a monthly basis. Now that we're pushing middle age, we enjoy this potato decadence about once a year — at Christmas. We love it. It's tradition. It's special.
The same goes for our Buche de Noel.
Even if you can't swing all your favorites this year — due to time, money, or energy — choose one thing that is a tradition and serve that.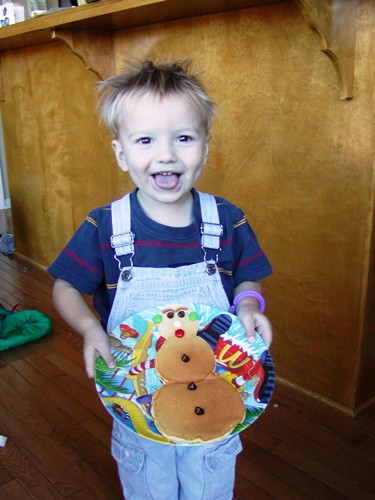 Make it fun.
Even if you're "just" having pancakes for supper — a great go-to dinner for all occasions, by the way — make it fun by creating special shapes and letting the kids add powdered sugar and sprinkles. Make pancake art.
Depending on how large your crowd is over the holidays, you can even eat someplace other than the dining room table. Have a picnic supper in front of the fire or kneel on pillows at the coffee table.

Fellowship trumps food.
I'm the first to say that good food is important. But, spending time with the people you love is more important than how good it tastes or looks. If I get to spend time with my brother and my friends, I don't mind that the salad dressing was a little too sour or that there were dishes in the sink or big bags of flour on the countertop.
What matters is the hanging out and enjoying one other.
What are YOUR Christmas Dinner plans?
What makes a holiday dinner special at your house? Feel free to share a recipe, menu idea, or Christmas dinner memory in the linky or the comments section.