Christmas Eve Traditions
We are a participant in the Amazon Services LLC Associates Program, an affiliate advertising program designed to provide a means for us to earn fees by linking to Amazon.com and affiliated sites. We participate in other affiliate programs as well. For more details, please see our disclosure policy.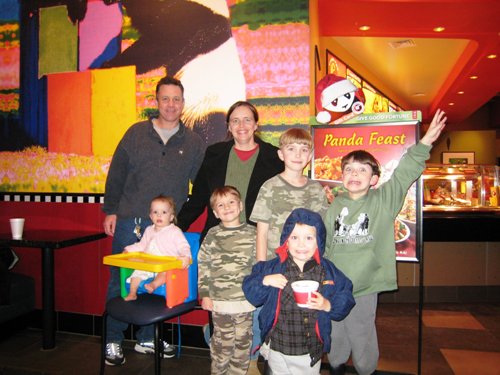 Christmas Eve. Just the words evoke excitement and energy in the heart of a child. I remember how hard it was to go to sleep on Christmas Eve. Nowadays, I'm lucky if I get to sleep on Christmas Eve.
Different families tackle the Night Before Christmas differently. I like to make a special meal. My mom always did that on Christmas Eve when I was a kid. And since she included me in the planning, it's just part of my Christmas to do the same.
One year (pictured) my dinner plans didn't thaw in time. So we splurged with some Christmas money from the grandparents and headed out for a Panda Feast. It was about 10 degrees in Kansas City. I was pregnant with FishChick2. Somehow the baby (now FishChick4) made it out the door barefoot!
But our kids loved it!
While we haven't repeated the adventure, it did fall under the category of a traditional special dinner for our family.
This year the grandparents are joining us for Tamales and a Mexican food feast. Again, different from other years, but still a traditional and special meal.
Other traditions for our kids include:
opening one present before bedtime
camping out in one bedroom (just the boys do this so far)
parents trying to get to bed before midnight
What Christmas Eve traditions do YOU have?