Christmas: Getting Organized
We are a participant in the Amazon Services LLC Associates Program, an affiliate advertising program designed to provide a means for us to earn fees by linking to Amazon.com and affiliated sites. We participate in other affiliate programs as well. For more details, please see our disclosure policy.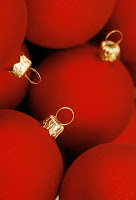 We've discussed why we celebrate Christmas as well as how to get our minds set on simplifying the season. What we think determines what we do.
Now, let's look at how to organize it all, so that we can actually do it.
I've told you before about the wonders of Organized Home. CEO, its founder, is amazing at getting systems in order and teaching you how to do it. And she even has a website, dedicated completely to getting organized for Christmas. And so as not to complicate things, it's aptly named, Organized Christmas.
You will find a treasure trove over at OC. There are lots of printable planning pages, creative gift ideas, and organizing plans galore, such as:
* The Houseworks Holiday Plan – "Part book group, part organizing schedule, the Houseworks Holiday Plan is an 18-week holiday plan designed to help you clean and organize your home in time for the holiday season–and take care of seasonal preparations, too. Beginning at the end of August, the Houseworks Holiday Plan breaks decluttering, cleaning and Christmas organizing chores down into small, weekly bites."
* The Christmas Countdown – "a free six-week organizing plan, starting October 26. By breaking Christmas preparations down into small, easy-to-take steps, the Countdown gives you a holiday headstart for a stress-free Christmas season. List, gifts, decor and food–you'll be ready for Christmas with time to spare."
* The Holiday Grand Plan – Another 18-wk plan, breaking down "all the tasks needed to clean and organize the house and prepare for the holidays." This starts August 31.
Now this may seem a little like overkill. And maybe it is for some of us. We've each got to find our own groove. But, I encourage you to check it out. Peruse one of the plans if only to see the psychology of breaking down a big task into smaller chunks. Some of us can't see the trees for the forest. Or is it the forest for the trees? Either way, looking at how someone else does it can inspire us for ways to do it better for ourselves.
I've done the Christmas Countdown several times and it has always been really helpful in thinking through all the things that may need to be done. And doing them ahead of time always saves me something in the longrun, whether that is time, money, or a few sane brain cells.
(I need all of those that I can possibly keep!)