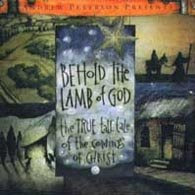 Several years ago a Christmas CD fell into our hands that has become one of our most dear. It is called Behold the Lamb of God by Andrew Peterson. The album tells the story of Christ,
Gather round, ye children, come
Listen to the old, old story
Of the pow'r of death undone
By an infant born of glory
Son of God, Son of Man
Gather round, remember now
How creation held its breath
How it let out a sigh
And it filled up the sky with the angels
Son of God, Son of Man
From Creation to the Incarnation and the Cross, the entire Bible is about Jesus. The Old Testament is all about Jesus. This is told through music in a beautiful way.
The songs on this album are soothing to me, they help me focus on what's most important about Christmas: Jesus. So soothing in fact, this is the CD we played while I was having my last baby — in August!
It is a magnificent tool for our family to use during the Christmas season. Yes, parents set the tone for the month. It helps these FishParents to grasp the greater meaning of the holiday and lead our children accordingly. I cannot recommend this album. Nuf said?
Today's giveaway features three copies of this fantastic, wonderful, beautiful album, courtesy of Andrew Peterson.
There are three ways to enter:
1. Leave a comment here, telling us your favorite Christmas CD.
2. Tweet or blog about this giveaway and come back here and leave a second comment with the link and/or twitter ID. Make sure you use @fishmama if you tweet.
3. Pop over to LifeasMOM and find a favorite post. Leave a third comment, telling us the title of that post.
Comments left between now and Saturday, August 1, 8pm PST, will be eligible. Winners to be chosen at random and announced early next week. Please make sure you leave an email address on each comment.

Hope you win!