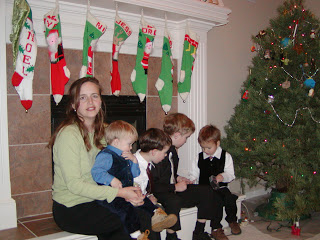 Today's giveaway is one near and dear to my heart. You see, we have this thing about stockings in our family. Many, many moons ago, my grandmother knit Christmas stockings for me and my one older cousin. As more cousins were added to the clan, she either knit another matching stocking or enlisted someone to knit it for her. When Fish and I were dating and I realized he was THE ONE, I asked my aunt to commission a stocking for him as his Christmas gift.
When Granny passed away in 2001, it seemed that the next generation would have a hard time acquiring handknit stockings to match the rest of the family. That is when my mother, Nanna, around these here parts, resurrected her knitting skills and we scoured knitting stores and websites for patterns. The pattern of this 70s type stocking is practically impossible to find. Believe me. And eight years ago, all the moreso. Knitting hadn't become the cool trend it is today.
In fact, so desperate was my mother for more patterns to go with this theme of stocking, we even hunted down (figuratively speaking, of course) a family featured in Bon Appetit magazine. In the background of their Christmas shot were stockings just like ours. Yeah, we called and left a message. And they still haven't called us back.
Not to be deterred, my mother has acquired a fair number of vintage patterns as well as created some new ones of her own. She has made everyone in our family a unique stocking. She doesn't have a stocking business or anything; she does it for the love of an heirloom keepsake. Last year she designed this Christmas tree stocking.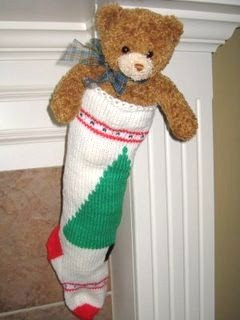 What I love about this pattern is that it serves as a memory keeper of your child's growth. Sure, it's a blank tree right now, but each year you can sew on different buttons or charms to match the things your child was interested in that year. Imagine this tree "decorated" with baseballs, rubber duckies, hearts, pokemon, whatever.
For today's giveaway, two winners will each receive one stocking.
To enter: simply share your favorite thing about Christmas in the comments section of this post. Winners will be chosen at random and announced early next week. Entries will be accepted until 8 pm PST on Saturday, August 1st.
Make sure to leave an email address in your comment!