Christmas Giveaway: Go Picnic Boxed Lunches
We are a participant in the Amazon Services LLC Associates Program, an affiliate advertising program designed to provide a means for us to earn fees by linking to Amazon.com and affiliated sites. We participate in other affiliate programs as well. For more details, please see our disclosure policy.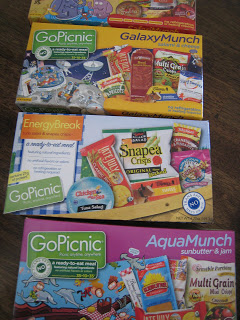 Recently the UPS man left us a nice hefty package at the front door. My five year old was with me when I opened it. You know how exciting a package is! It could be filled with boring old textbooks, but the anticipation that it might be something better is almost palpable.
Thankfully, this was something better. The box was filled with prepackaged meals from Go Picnic. FishBoy's eyes lit up at the sight of this one. Oh my! He could not stop talking about it. He was ready to have a picnic, right there on the school room floor.
Instead I saved them for an outing where I knew lugging a cooler would be a hassle — a trip to the beach. Why? Well, each box is filled with food items that require no refrigeration. A ready to eat meal?
To be honest, I was quite skeptical that these would be good, let alone fun! But I was wrong to be doubtful. I. am. sold.
Go Picnic was founded by the same brilliant woman who developed the airline snack box, a welcome reprieve from bad airplane food for travelers everywhere. And I think they are a fun, fun treat for families on the go.
There is a huge range of combinations offered at Go Picnic. Each box constitutes a complete meal. FishBoy's snack box of choice was a Salami & Cheese combo, boasting lots of Vitamin A and 11g of protein, according to the packaging. It included Old Wisconsin beef salami slices, Copper Cowbell cheddar cheese spread, Late July classic rich organic crackers, Sensible Portions apple-cinnamon multigrain crisps, Mariani Ultimate apricots and Surf Sweets all-natural gummy bears.
Do you see how excited he is to eat his picnic? Oh my!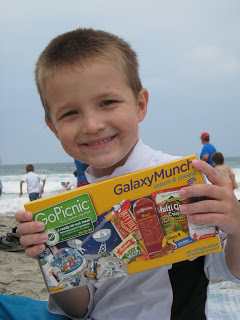 His favorite parts were the salami and the gummy bears. When I asked him why he chose it, he lisped, "Because it was filled with delicious things."
To be sure, the contents of the kid-focused Mighty Munch Meals are as appealing as the packaging. The options range from Sunbutter and Jam to Chips, Salsa and Crunch to the aforementioned Salami and Cheese. There are six kids' meals to choose from. According to Go Picnic, they are balanced to "limit overall fat, saturated fat and sugar content." I heard no complaints of the food front. There are also some nice extras thrown in. I was pleased to see a lemon-scented hand wipe as well as a compact, folding spork; and the kids loved the fake tattoos that were included.
The other meals are just as fun, well, minus the tattoos. FishBoy 8 really enjoyed the Croissant and Fruit. All the components included in these packaged meals are from higher end companies like Bonne Maman, Nutella, Late July, Marianis, and Mrs. Mays. There are vegan and kosher options as well as gluten-free choices.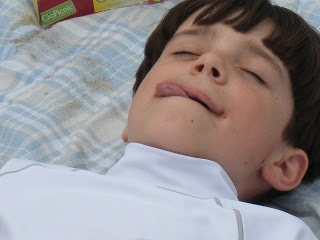 This child is resting in his Nutella-induced happiness.
The price range of $2.50 to $6.95 makes this an accessible meal option for most families. Sure, you could get a $5 footlong, but sometimes you find yourself in situations where there is no sandwich shop in sight. If I were stranded somewhere with hungry kids, I'd be ecstatic — and a little boastful — to be able to pull these out of the trunk. I see these as a great option for families on the go.
The kids thought they were a fantastic novelty. Is that necessary? No, but it's a nice perk. While I don't buy happy meals, I would consider this as a fun, once-in-awhile treat. And I think they would make for excellent stocking stuffers. How fun to find a croissant and Nutella on Christmas morning!
Now, wouldn't you love to win some boxed lunches? In today's giveaway three winners will each receive four meals of their choice. Yeah!
Just pop over to the Go Picnic site and look around. Come back here and leave a comment on this post, telling us what looks good to you today. (This doesn't have to be your final choice, just do some window-shopping.)
Comments left between now and 8 pm PST on August 1 are eligible to win. Winner to be chosen at random and announced early next week. Please make sure you leave an email address on your comment so that I can contact you if you win.