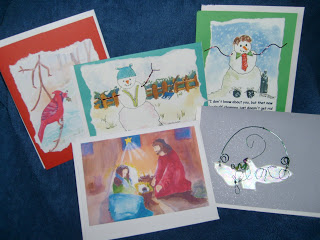 One of the themes of getting organized for Christmas is to plan ahead. In so doing, we can give concentrated thought to goals and gift-giving ideas for the season. We also gain the advantage of being able to shop around and find good values. Often good values can be found through small businesses and mom shops.
Here's one of my favorites: Sheila Howe Designs.
In addition to being a busy mom of four young children, Sheila is a talented watercolorist. Sheila has a complete range of products from original watercolor paintings to matted prints to blank and personalized notecards. I love her stuff. It makes me feel restful. Sheila is offering reduced prices to LifeasMOM readers! Check out Sheila's site and see all that she has to offer, including (you guessed it) several beautiful Christmas and holiday designs.
Today, I'm treating five readers to notecard assortments similar to the one pictured above.
Simply fill in the form below, making sure to provide your complete mailing address. Winners will be chosen at random and announced early next week. Entries will be accepted until 8 pm PST on Saturday, August 1st.
Don't forget to visit Sheila and tell her that FishMama sent you !