Christmas Giveaway: Spray 'n Wash Bright & White
We are a participant in the Amazon Services LLC Associates Program, an affiliate advertising program designed to provide a means for us to earn fees by linking to Amazon.com and affiliated sites. We participate in other affiliate programs as well. For more details, please see our disclosure policy.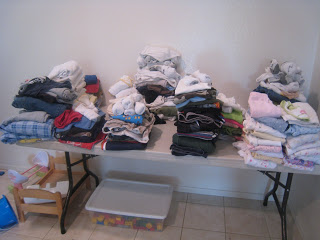 Got kids? Then you got laundry. Loads of it.
And while I'm pretty laissez-faire about bibs and napkins, I am not entirely pleased with what results when we go without them. The baby's clothes get splattered. And my boys use their sleeves, or better yet, their shoulders to wipe their faces. Oh my.
To be honest, I'm a Shout girl. I usually just spray stuff with Shout when I have time to do more than just dump the hamper in the wash.
But, recently Spray 'n Wash contacted me about one of their new products, Bright & White. I was asked to participate in a survey about holiday stains. And since I was already planning Christmas in July, I was in the holiday mood — and thus, paid a little more attention.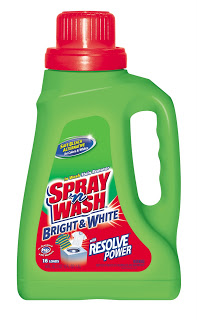 Spray 'n Wash has released a new in-wash product designed to fight stains. It is considered a safe alternative to bleach and boasts the ability to whiten, brighten and remove stains from your clothing. Since it's bleach-free, using this as your stain fighter of choice, will help you avoid what they call "bleach accidents."
That means you won't ruin your kid's shirt just by running it through the wash — unless, of course, it has crayons in the pocket. But, that's another story….
While Bright & White can be used for pre-treating and pre-soaking, one of the characteristics that appeal to me are that I can just pour a capful into the wash right along with the detergent and just dump the hamper in the wash. Are you thinking what I'm thinking? Answer to a lazy washer woman's prayers!
I just received a sample bottle the other day, so I haven't had the chance to really give it the FishFamily Challenge. I'll report back when I do. In the meantime, would you be interested in giving Spray 'N Wash Bright & White a shot?
Three winners will each receive two bottles a piece.
Here are the three ways you can enter to win:
1. Leave a comment on this post, telling us your biggest laundry challenge.
2. Tweet or blog about my Christmas in July giveaways and bring the link or your twitter id back here and leave it in a second comment.
3. Browse the Christmas in July series and leave a third comment, telling me one new idea that you learned — either from me, from a comment, or how it got your own creative juices flowing.
Comments left between now and 8 pm PST tonight are eligible to win. Winner to be chosen at random and announced early next week. Please make sure you leave an email address on each comment.