Christmas Home Tour
We are a participant in the Amazon Services LLC Associates Program, an affiliate advertising program designed to provide a means for us to earn fees by linking to Amazon.com and affiliated sites. We participate in other affiliate programs as well. For more details, please see our disclosure policy.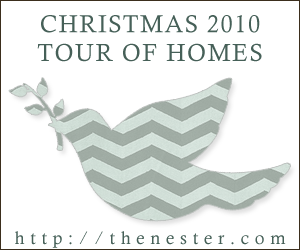 Welcome to the FishHouse! I'm so glad you came! Please excuse the mess, we live here.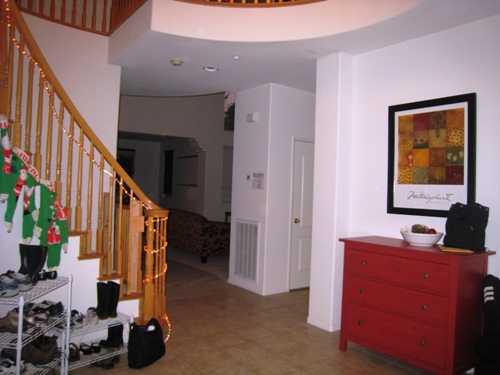 Over the years, I've made some attempts at having a Better Home and Garden, but those didn't pan out so well. Case in point.
Instead, I've come to the realization that for this season of life with little ones and a busy homeschool, less is more. And so I'm trying to keep only the things that are beautiful, meaningful, and easy to take care of.
This would apply to Christmas decorations as well. Many of our ornaments and decorations are items that we've had for at least a decade. That makes them "meaningful" by now.
Here's what is beautiful and meaningful at our house: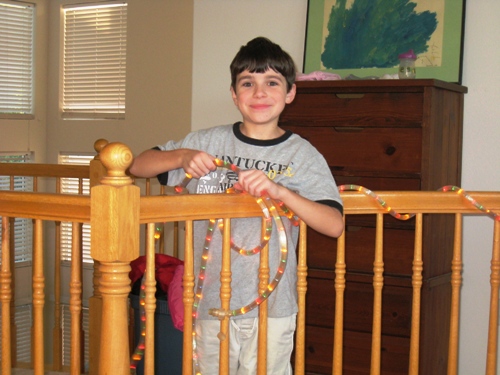 Lights (& Children, of course)
While the kids would love to have lights on the outside of the house, we've opted out of this expense. Instead, we string these rope lights around our banister to brighten up the winter evenings. It adds a fun glow to both upstairs and down. And the FishBoys love taking on the job!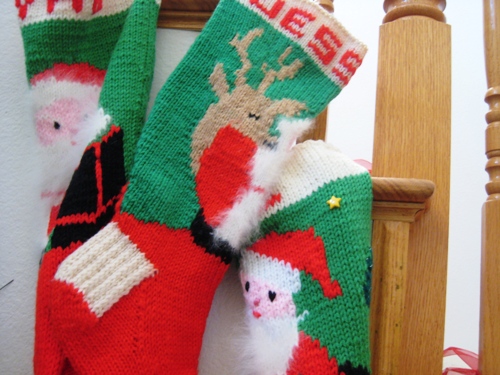 Stockings
My granny knit my stocking thirty-something years ago and my mom has knit coordinating stockings for my husband and kids. These Santa Stockings are a huge deal at our house. Definitely a tradition to pass down.
Since we don't have a true mantel over our fireplace, we've tied them with ribbon from the banister, making the foyer a little more festive.
The Rocking FishMouse
I can't remember which Christmas my mom bought this for the kids, but it was years ago. This little guy has braved a cross-country move and adds a little bothersome noise zest to our holiday season. Thank the Lord that batteries do run out.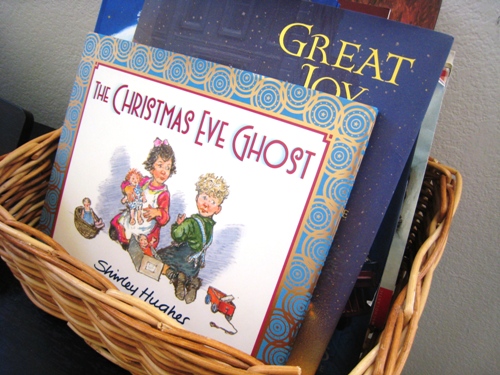 Christmas Reads
A friend shared this idea with me years ago. She had a huge collection of Christmas books that she only brought out in December. I loved that idea and wondered if we'd ever have a worthy collection. But, over time, a new book here, a gifted book there, we have a nice basket of books to read on cold December nights.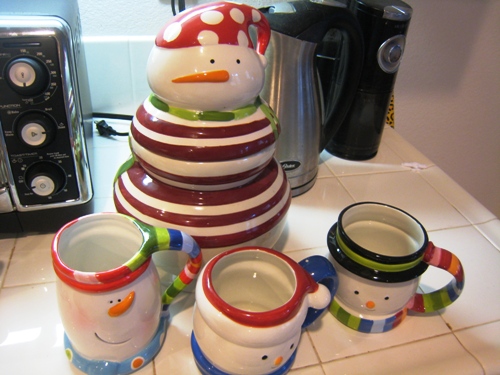 The Mugs and Cookie Jar
I told you about our special dishes last year. These are a fun asset to our holiday season. My kids love it when we bring them out of storage. Hot Cocoa and cookies? Yes, please.

Speaking of Cookies
The kids and I did our baking and decorating early this year, so when we have a craving for cookies, we head to the freezer. Oh happy day. We've got a great array of special, sweet treats. Many of these like the Chocolate Minty Melts, the Snowballs and the Thumbprints are cookies that we only make at Christmas time, making them extra delicious.
The Tree
Our Christmas tree is really the focal point of our holiday decor. Christmas ornaments have always been a big deal to our family with each child adding to his collection each year. Last year, we bought each kid a Sterilite box for ornament storage, making it very easy for each one to know which ornaments were "his" to put on the tree.
We do lights, a silver bead garland, and ornaments. That is how my mom did it. I guess that's how I do it.
But, different than most trees, we don't put a star or an angel atop the tree. We craft the treetop into a cross — because that is why He came.
Since we're going to be away for a few days this week, we decided to wait until we get back to buy our tree. That way it won't die while we're gone.
We like to be here and watch it die.
So, I'll update you next week on the tree trimming extravaganza. Because you know — decorating a tree with six children is a feast for the eyes, to be sure.
What is beautiful and meaningful in YOUR Christmas decor?
Don't forget to visit The Nester and Kelly's Korner for two amazing round ups of Christmas home tours.
For more holiday inspiration and daily giveaways, check out The Christmas Fun series.