Christmas Home Tour 2011
We are a participant in the Amazon Services LLC Associates Program, an affiliate advertising program designed to provide a means for us to earn fees by linking to Amazon.com and affiliated sites. We participate in other affiliate programs as well. For more details, please see our disclosure policy.
It's always so fun to participate in the annual Christmas Home Tour in the blogosphere. Namely, it makes me clean my house!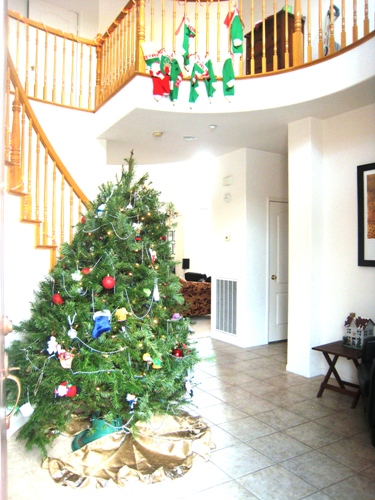 Last week I was busy with numerous writing projects and deadlines. I finished about 4 pm on Friday afternoon, decided on a dinner out, and then promptly fell ill. My family had been sick weeks ago, bad-sleep-all-day-stuffy-head-fever" kind of sick. I fought it off. But, I fell, once all my other obligations were taken care of.
So, this is the best kind of home tour I could give you. No cooties! I promise not to cough on you.
Welcome Chez FishMama!
As soon as you enter our humble abode, you'll be meeted by the tree. Yes, really. It's a live tree 'cuz that's how we roll. My parents and supposedly my in-laws never had an artificial tree, and neither have we. The masses balked when I suggested buying a fake one in the after-Christmas clearance last year. So fresh it is! Bought in Lowe's parking lot for $25.
In many years past, we've had a small table top tree to prevent small people from undecorating the tree or pulling it over on top of themselves. This is the first year in 15 years with babies that we don't have such little people.
But, we also have carpet that the landlords are fairly protective of. The idea of water leaks on this carpet we've been entrusted to care for…. well, hubs suggested we leave the tree in the foyer on the tile. Easy to sweep up needles and easy to take care of leaks. Initially, I balked. Then I got over it. I rearranged some furniture so that there's a chair in the foyer for tree looking.
I like watching the tree. Maybe I'm weird? I dunno. But, I like a dark house, a hot cup of coffee, a lit tree, and quiet.
Once I strung the lights and garland, the kids took over. They each have their own box of ornaments, so it was easy. And they love it. And I love it. And it's just perfect, despite its misshapen branches and CharlieBrownish tendencies. Per our family tradition, it's topped by a rugged wooden cross, because that is why He came.
Surrounding the tree is our staircase. We strung lights up the stairwell again this year. It makes a wonderful night light.
Other Christmas-y details?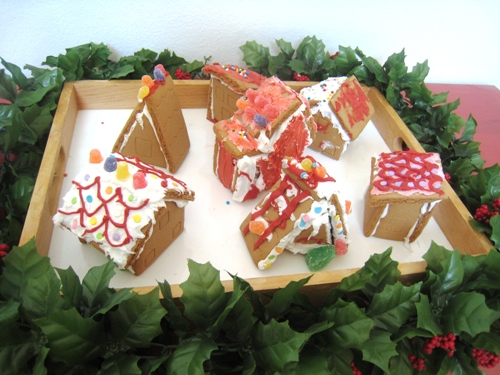 Mini gingerbread houses – I bought a couple kits from Walmart with 5 mini houses each. This was perfect for each child to make his own and not feel like he wasn't getting a turn in the decorating.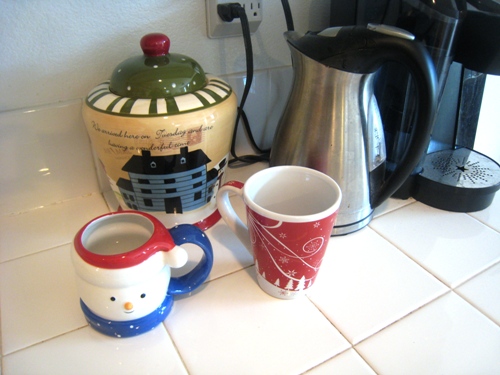 Our snowman mugs and cookie jars – I bust out these special dishes every December for hot cocoa and coffee drinking as well as storing cookies.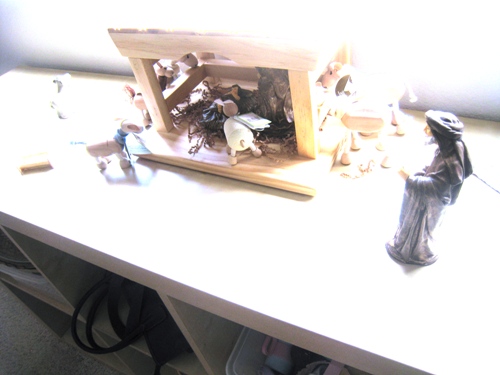 Our wood nativity – Aunt Cass sent me this manger and its animals last Christmas. She said I was on my own with the Holy Family. I have an interesting Mary, Joseph, and Jesus from a white elephant gift exchange many years ago. It's unbreakable, perfect to let my girls play with.
Unfortunately, Joseph doesn't fit in the stable. But, as we know, Jesus' birth was far from perfect, at least in a worldly sense. So, it kinda works. The girls love to play with the set, and I've found it staged in multiple ways in just a few days.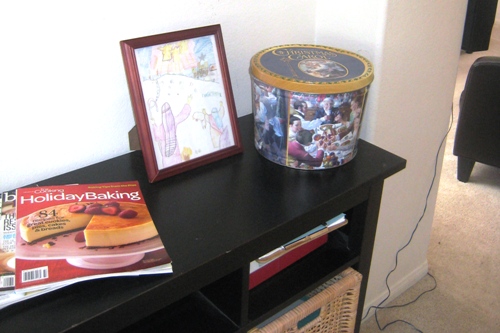 Christmas drawings – For several years back when FishBoy14 was little, he drew our Christmas card artwork. I saved the originals and framed them. I bust them out every year. What a sweet reminder of a Christmas past!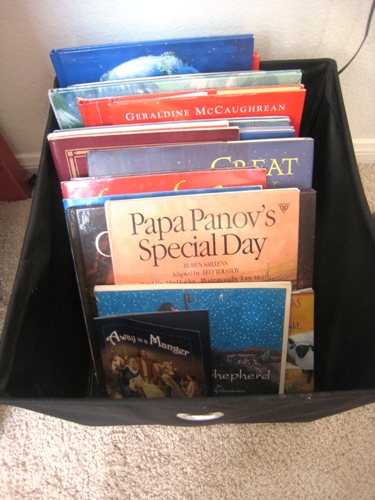 Christmas books – I told you about our books already. We store them in a book basket in the living room. And they go back into storage after Christmas.
The Mouse King and the Rocking FishMouse – I know, totally strange. The Mouse King is the "bad guy" in the Nutcracker, yet somebody made a cuddly stuff animal out of him. Weird. I have no idea what happened to his nose.
The Rocking FishMouse is our resident Elvis-impersonator. A child told me that he lost his guitar and microphone. I have no recollection of either accessory. Shows you kinds notice more than we do. Apparently, he's a little tired, but he shall continue to annoy us for at least another year. 😉
Wondering how our home has changed over the years?
Check out the past few year's "home tours." Clearly, I am no design specialist, but it's home.
Christmas Home Tour 2010
Christmas Home Tour 2009
Christmas Home Tour 2008
Be sure to stop by the Nester's and be inspired by all kinds of great Christmas decor and tradition.