Planning now for Christmas can help you enjoy the season without extraordinary stress or overspending. This giveaway is now closed. Congrats to the winners: ariana8407@ and samnkids@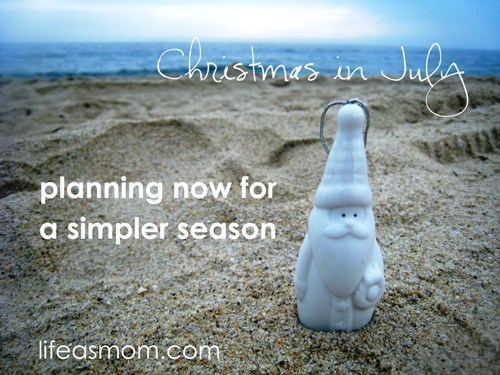 For the last five years we've spent time at Life as MOM talking about Christmas. In July.
Yes, really.
Planning now for what happens five months from now better prepares you to enjoy the holiday season without overdoing or stressing about it.
Head to the archives for a glimpse at Christmases (in July) Past:
This year, we're only chatting for a day or two. Yesterday we talked about Santa: Yea or Nay. Today, I've got two fun Christmasy things to talk about.
Get A Simpler Season for FREE.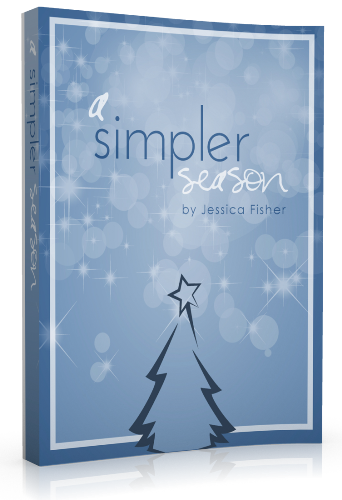 My ebook, A Simpler Season is available on Kindle for FREE from now until Friday. After Friday it will return to its regular price. You don't have to own a kindle to read the book. There are several free reading apps to allow you to read kindle formatting on PC, iPhone, iPad, and Android.
The book provides all kinds of holiday helps to get you from Thanksgiving to New Year's with a smile on your face. No drugs involved.
Please note that the kindle version of the book does NOT include the printable pages. You can buy the printables in the Life as MOM estore.
Grab the download while it's free.
Enter to win one of Nanna's stockings.
My mom, aka Nanna has knitted stockings for my family and extended family. These stockings match the vintage 1960/70s stocking that my Granny (her mom) knit for me when I was a baby. You can see them here. Every year she knits a few for Life as MOM readers.
This year's stockings are a version of her Christmas tree stocking, each with a slightly different red detail.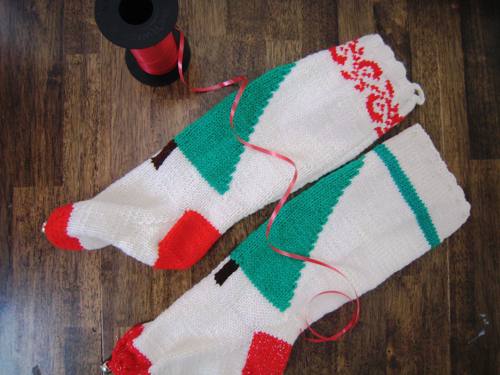 The idea behind the design is that you would "decorate" the Christmas tree over time, adding tokens or buttons that represent significant experiences in your child's life.
This week two Life as MOM readers will each win a stocking.
To Enter:
Simply complete the information on this form. Please know that the information is only being gathered for the purposes of mailing you your prize in the event that you are chosen as the winner. This information will not be sold, traded, or given away.
This promotion is open until Sunday, July 28, 2013, at 8 pm PST and is limited to US residents, 18 years or older. Friends and family of Jessica Fisher and Life as MOM are ineligible for entry. Please enter only once. The winner(s) will be chosen randomly. The prize for this promotion is provided by my mom because she loves me. We cannot be held responsible for lost, undeliverable, or misdirected deliveries. This post will be updated with the beginning of the winners' email addresses.
Planning ahead for Christmas?
Yea or nay?