Christmas in July: Do a Clothing Check
We are a participant in the Amazon Services LLC Associates Program, an affiliate advertising program designed to provide a means for us to earn fees by linking to Amazon.com and affiliated sites. We participate in other affiliate programs as well. For more details, please see our disclosure policy.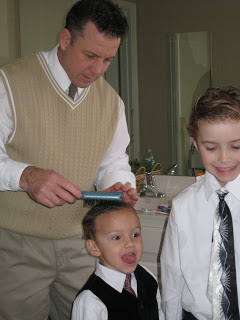 Now, you may not want to be thinking about bowties and holiday dress while the temperatures soar and the waves are beckoning. But, on December 24th when you pull out a stained dress shirt from the back of the closet and your son is sporting high waters, you'll wish you had. Spending an hour on your holiday wardrobe today may save you hours of grief and stress later.
Here are some suggestions on how to get your family wardrobes ready for the holiday:
What do you already have?
Go through your kids' closets — and maybe your own — and see what you have in the way of nice-casual as well as dressy outfits. Have the kids try it on. Sure they might grow between now and December. But if it's already too short or too tight now, you know where you stand. Take notes on what you have and what you might want to purchase.
Treat for stains.
There are a range of products and techniques to help you in this. In fact, peruse the websites of your favorite manufacturers to see what their suggestions might be for fighting set-in stains. Consider taking items to the dry cleaners now. They aren't busy; you aren't hurried; and there just may be a sale or special you can take advantage.
Shop for good deals.
Clothing, especially kids clothing, is on sale right now. I bought each of my boys khakis at Old Navy last week for $9 and polos for $5. I also used a 25% off coupon from OldNavyWeekly and got their stuff for even less. While they weren't marketed at "holiday" wear, they will certainly work well for any Christmas get-together we might have later in the year. As long as you have it in the back of your mind what you have and what you need, you'll be able to shop more wisely. Buy a little big if you think you might see a growth spurt in the coming months.
What's your trick for keeping everyone nicely dressed come holiday time?
Related: Enter to win a new stain fighter from Spray 'N Wash.