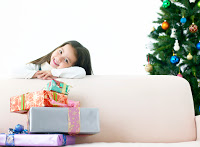 One of the things that can get squeezed aside during holiday time is the idea of giving to those less fortunate than ourselves. Sure, we can have good intentions to put together a package for Angel Tree or a shoebox of goodies for Samaritan's Purse.
But, c'mon, truth be told, if you have a ton of other things to do in December, serving others can seem more like a chore than a joy. May it not be so!
And do not forget to do good and to share with others, for with such sacrifices God is pleased. — Hebrews 13:16
With that in mind, let's think about ways that we can plan to give this holiday season. Money Saving Mom has a great post here on this very topic. As her reader pointed out, school sales are a great time to stock up on gifts, for those at home and abroad.
Any other ideas?