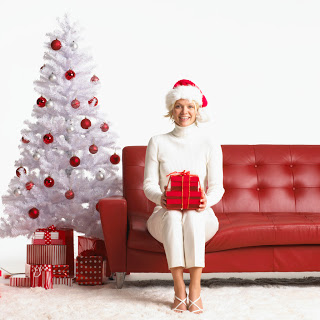 And my giveaway pile's gettin' fat!
That's right. I've been scheming this last couple weeks to put together some very cool, Christmas-in-July giveaways. Corporations and individuals have been so generous, that I will be able to give away something fantastic everyday next week and several more as the holiday season gets closer.
Christmas? That is five months away. Why do we need to think about it now?
Because.
Because we're on the Road to Joyful Motherhood, right?
Because we know that if we don't plan ahead, we'll be ranked right up there with Scrooge and the Grinch (before they turned) for our crankiness.
Because we know that last-minute thinking is usually more expensive than if we spend a few brain cells now to come up with a plan.
Because it's fun!
So, get your thinking caps on. Dig up fond Christmas memories. Dig up your favorite recipes and be prepared to share. Think about what gadget or tool helps you during Christmastide for a special Holiday-themed Toolin' Up Tuesday.
Get ready to comment or post, because you can't win if you don't play.