Christmas Memories: Holiday Mugs
We are a participant in the Amazon Services LLC Associates Program, an affiliate advertising program designed to provide a means for us to earn fees by linking to Amazon.com and affiliated sites. We participate in other affiliate programs as well. For more details, please see our disclosure policy.
Years ago dear friends demonstrated to me the fun of seasonal dishware. They had a huge collection of dishes for spring, summer, fall, and winter! While many people, myself included, don't have the space for multiple china settings of different patterns, I have found that a few key pieces bring a sparkle to my kids' eyes when I pull them from storage.
Yesterday morning before the kids awoke, I risked life and limb climbing the garage shelves in search of our snowmen mugs and cookie jar. How sweet the table looked with the snowmen all gathered for the kids to join them at breakfast. And the looks on their faces was worth the potential risk of explaining to the paramedics why I was scampering about in the rafters of my garage.
To fill their snowmen mugs, I had this cocoa mixwaiting as well as a cookie jar full of King Leo peppermints. These are delicious to melt in a cup of hot chocolate. We've been going through this mix like crazy lately, trying to warm up. While we don't have "winter" in the true sense of the word, it's been a bit blustery for this neck of the woods.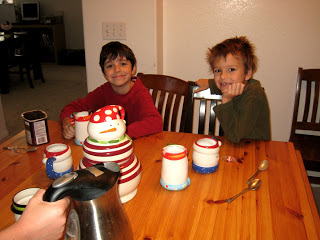 Are snowman mugs necessary to life? No, but they are part of our memories as a family. Though we've spent the last few Christmases in three different houses, these mugs are an easy way to bring constancy to my kids' lives. They remember them as being part of "home."
Traditions are like that. They ground us. They bring to mind past times, good and bad. They help us mark the seasons of our lives. They remind us that, really, "home" is something we can take with us no matter where we go.
And that's a memory worth making.
What holiday traditions do you have that are special to your family?


Disclosure: C&H Sugar graciously sent me a gift card to purchase ingredients to try out my choice of their recipes, like this cocoa mix. It's been FishKid tested, FishMama approved.