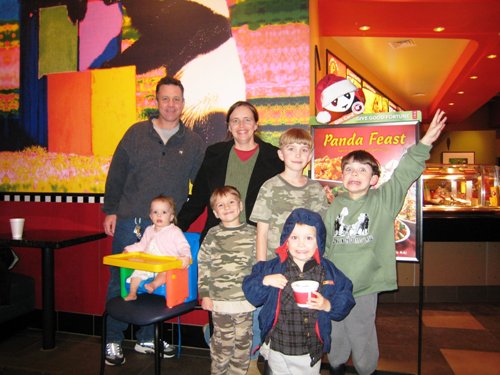 For the longest time I've associated Asian flavors with Christmastime. I think it hearkens back to some holiday thirty-some years ago when my mom picked up takeout from Lui's Kitchen and we ate it in front of the fireplace, seated at the coffee table. And then there was the Christmas Eve not too long ago when my Christmas Eve dinner plan bit the dust and we headed out for a Feast.
For some people it's tamales, panettone, or Lebkuchen that bring them comfort at the holidays, but for me I'll take some noodles in a box.
Now, Asian takeout can be pretty pricey, so it is always nice to learn how to make some dishes yourself at home. Summer Rolls are something I think I've gotten the trick of. And it's always fun to have help.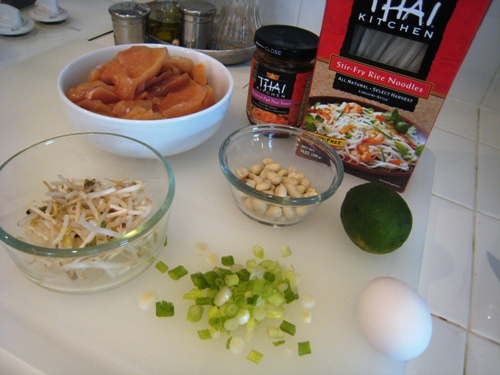 Thai Kitchen recently sent me a recipe to try as well as some ingredients to test out. Since I love Pad Thai they were kind enough to send that. Yum!
The recipe was super easy to follow and didn't call for too many ingredients that I don't normally buy. I think I needed to add peanuts and bean sprouts to my shopping list, but other than those — and the Thai Kitchen ingredients — I had the other basics. I  made it for lunch one afternoon and it was a super easy to pull together in a short amount of time.Just make sure that you read directions carefully. I ended up cooking 14 ounces of noodles instead of 4 ounces. Yeah, we're rich in noodles.
While it wasn't exactly like what I get when I go out for Thai, it was a delicious lunch. (If you want set-your-mouth-on-fire Thai, you'll need to spice this baby up.)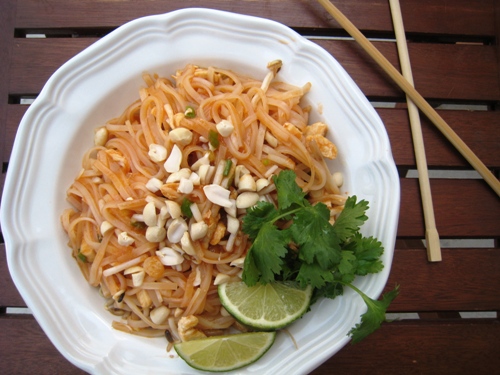 Having an arsenal of easy to make, ethnic recipes to try your hand out keeps the spice in your life, especially at holiday time. So, I'm really pleased to offer this giveaway.
Two winners will receive Thai Kitchen cookbooks!
Keep it or give it as a Christmas gift.
Ways to Enter:
There are three ways that you can enter this giveaway. Pick one, pick 'em all.
1. Leave a comment, telling us your favorite Asian dish.
2. Follow @ThaiKitchen and @FishMama on twitter and tweet about this giveaway. Then come back here and leave a separate comment with your twitter handle, telling me you did so.
3. Subscribe to LifeasMOM in a reader or via email and leave a separate comment, telling me you subscribe.
This giveaway will be open until Sunday night, August 1st at 8 pm, PST. Winner will be chosen at random and notified via email. You have 48 hours from the time I send the email to respond, otherwise I reserve the right to choose another winner.
THIS GIVEAWAY IS NOW CLOSED. WINNERS HAVE BEEN ANNOUNCED.
– Disclosure: Thai Kitchen has provided this prize for giveaway as well as product samples for me to review. I was not compensated for publishing positive comments. Please see my disclosure policy for more information.