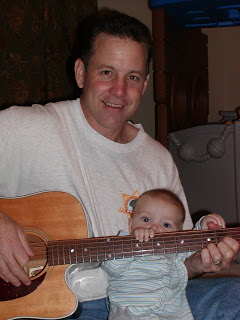 I am blessed to have a musician husband. I still can't believe he married me since I am so non-musical. But, he loves me anyway. Even though I am not a great singer and I can't play a note.
Though I am inept in the realm of music, I still really enjoy listening to music, especially when FishPapa plays and extra especially when it's Christmas Music. For the last month, he's been playing songs from our favorite Christmas album, Behold the Lamb of God by Andrew Peterson. I've told you about it before. But, it's so good, it bears repeating.
Behold the Lamb of God recounts the entire story of the Bible through song and demonstrates how Christ is a part of every chapter. We attended the Behold the Lamb of God concert several years ago when Bebo Norman and Sarah Groves were on tour. It was amazing! By far it was one of the most meaningful Christmas events we've ever attended. This year Andrew released the 10th Anniversary edition which promises to be even better than the original. There are a few more shows left in the tour season, if there is one near you or within a comfortable drive, I most highly encourage you to get there!
Over the years, I've found that it's hard to find good Christmas music. Some of the albums we've purchased ended up being a little annoying after all. Maybe you need to have a big enough selection so that you're not hearing the same old, same old. But to really build a collection, it can cost some change.
How happy was I to find a treasure trove of free music sources today. Yippee! Thanks to the Technology Age, individual song downloads, and freebies, it's time to fill my house with new Christmas music!

Get free music downloads from Amazon
for a limited time only. New songs are added every day. Selections include Jars of Clay's God Rest Ye, Merry Gentlemen
, It Came Upon A Midnight Clear
with Frank Sinatra, and Sixpence None the Richer doing Silent Night
, among a ton of others. Browse the selection here
and enjoy a huge arrat of free music! (Thanks for the head's up, Freebies4Mom!)
Try out Emusic's downloads. Get 25 free music downloads and a free 7-day trial of the Emusic.com service. A credit card is required but there is no charge to the consumer for the 7-day trial. Read the fine print carefully and make sure to cancel if you don't want to continue with the service.
And don't forget Pandora! You can type in a holiday song title and create your own Christmas station based on songs you like.
Got a favorite holiday song or album? Tell us about it! One can never have too many good Christmas songs.