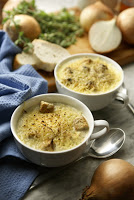 December is a great time for festive get-togethers. Tree-trimmings, carolings, cookie exchanges, gift exchanges – the month can be a flurry of parties.
One idea that I'm partial to is the "Soup's On!" The basic gist of this shindig is to invite friends and family for a simple supper of soup, bread, and maybe Christmas cookies.
Your guests' contribution? Canned soups and foods to donate to your local food pantry. What a great way to gather friends, food, and philanthropy all in one place!