Christmas Planning: Make a Gift
We are a participant in the Amazon Services LLC Associates Program, an affiliate advertising program designed to provide a means for us to earn fees by linking to Amazon.com and affiliated sites. We participate in other affiliate programs as well. For more details, please see our disclosure policy.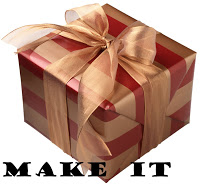 This morning I started thinking about Christmas. And when I start thinking about Christmas, my mind automatically goes to gift-making. I've always enjoyed making gifts and for several years, I made ALL of our gifts to give to family and close friends. (Yes, some would call me a glutton for punishment.)
But, I have always enjoyed the creative process and, hopefully, someone besides my mom was blessed by them.
I love to get new ideas, so I was especially pleased when I saw that Kisses of Sunshine is hosting Homemade with Love 2008. She's got some great ideas of handmade gifts as well as Mr.Linky where you can share your ideas and pick up some new ones. Also, don't forget to visit the Holidays by Hand round-ups. Go here for Simple Mom's collection of hand-sewn gifts as well as Small Notebook's compilation of paper craft ideas.
So here I am to shock and amaze you with my Amazingly Creative Gift Ideas of Christmases Past. But first some disclaimers:
* I am cheap. Cheap, cheap, cheap. Some, like my husband or mother, like to call me frugal. Isn't that nice of them? Yes, generosity lurks in my heart, but when money is tight, I can rival Ebenezer Scrooge. I think it's actually a battle between generosity and my "frugality". I want to give gifts, but can't necessarily come up with the cash to really do it right, so I search for a shortcut. Making all our Christmas gifts started the year we bought our first house. We really did not have the money to buy presents for our parents, siblings, nephews, etc. So, I had to be creative with what we had (scrapbook supplies) and made Christmas cards and calendars. It became a tradition of sorts. I honestly would have rather been able to buy what people really wanted, but that couldn't happen. And most years, it can't.
* I am not really that creative. I wish I were. But, God blessed my sister Jamie in that way. I read a lot, remember what I read, and try to execute. Sometimes, it works out. Other times, well, it really looks lame.
* I am semi-retired from giftmaking. Three years ago my husband wisely pointed out that my gift-making frenzy was costing our family something: peace in our home. I was frantic, working late at night, in addition to my regular load of childcare, homemaking, and schooling. I was not a fun person to be around and I wasn't enjoying the season. Consequently, he insisted that I purchase gifts the next year and we saw that it was good.
Last year we found ourselves in a quandry. We were trying to be more responsible with our finances, and, therefore, quit using credit cards. No paying in January for the hamburgers today. Short on funds, we worked together on a gift. We tried not to let it sweep me away and in the end it was something we really enjoyed. So, let that be a lesson to ya! Let the giftmaking serve you, not the other way around.
And so after all that long-windedness, here are my ideas for fun and creative handmade gifts:
1. A DVD slideshow
We made this last year for our immediate family, all of whom lived far away. It was really fun to do and a great way to capture the year in photos. We used Windows Movie Maker and Roxio My DVD programs. The technical aspects were a little challenging. But our kids LOVE the end result, making it worth it. I would love to do another one this year. I may have to teach the kids the software so they can do it for me. Now we're talking! Scroll down for the opening sequence. (I've been having problems getting this 2-minute clip to upload.) The entire video slideshow lasted about 20 minutes.
For more info on how to make a video, go here.
2. The At-Home Spa Kit.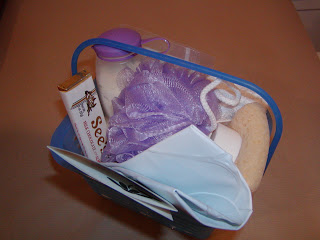 One year I made lavendar milk bath and custom soaps to create an entire spa kit for all my lady friends and family. Everything was either handmade or purchased at the dollar store. Today I would try to score some deals at Walgreens and CVS. (Google soap making and lavendar milk bath if you want to make them yourself. There are a wealth of directions on the internet.) Here you can find my document that explains what to include and is a fun "how-to" to slip into your basket.
3. A Book of Days
This is an accordion folded calendar, embellished with photos and scrapbook accents that can be used year after year to record birthdays, anniversaries, etc. If you scrapbook or do paper crafts, you probably already have a lot of the needed supplies:
large art paper – I used Canson textured paper
colored papers and other scrapbook embellishments
all twelve months printed on long strips of card stock. I made these with the date and a line so the person could fill it in. For family I filled in the bdays and anniversaries (Let me know if you are interested, and I will send you the pdf so you don't have to recreate the wheel.)
bone folder – a tool for making crisp creases in the paper.
Cut a long strip of art paper, 11 inches high. Fold it accordion style, so that there are 7 spaces. Make creases crisp with bone folder. Your 7 spaces on each side will allow for a cover, the 12 months, and a back. Decorate as desired. Tie closed with colorful ribbon.
4. Photo Names

Several years ago I read a blog that posted this fun photo idea. I set to work that fall snapping shots of "letters" everywhere we went so that I could make Christmas presents for the fam. Thankfully, I didn't need every letter in the alphabet. But I found most. So, if you want to tackle this and are stumped for a letter, let me know. I just might have it. Take photos like this S: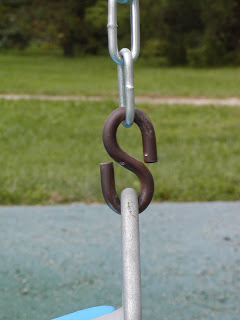 To display the photos, you can crop, print, and get a custom matte to frame them. I could not afford that, though I think that would be best. I printed them at home in 1″squares and glued them to art paper and then framed them in thin narrow frames. For some gifts, I loaded the pics into Picture It! and created stationery.
5. Photo Tote Bags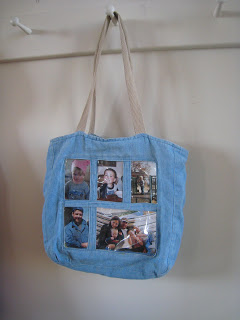 This was one of my favorite gifts to make. I made 13 of these babies (yes, 13!) right before FishBoy7 was born. Since he was born in early Nov. it was the first time in my life when December wasn't crazy — the presents were already done. It's probably why I have fond memories of this project. It was so fun to see them all lined up on the couch. I used McCall's pattern 2545 which was pretty easy to sew, though learning to sew vinyl was a little tricky at first. It was fun to customize the fabrice to suit the person.
That time I actually made one for myself. We use ours as a library bag during the school year and as a pool bag in the summer. I stick the pool passes in the photo slots so I never have to mess with pulling them out and showing them individually.
Well, at least the lifeguards are impressed….
Do you have a fun handcrafted gift idea? I'm in the market for an idea that the kids can help with. Share it here!
Related: Making Gifts