Christmas Shopping: Getting the Biggest Bang for Our Buck
We are a participant in the Amazon Services LLC Associates Program, an affiliate advertising program designed to provide a means for us to earn fees by linking to Amazon.com and affiliated sites. We participate in other affiliate programs as well. For more details, please see our disclosure policy.
Last night I went shopping with a friend. We got great deals on crackers and laundry soap, ate yummy Thai food, scooped up the loss leaders at the local health food store and overall, tried to get the biggest bang for our buck. That's the name of the game these days. How can you stretch your dollars the farthest?
The same goes for Christmas shopping. Or else it should.
We can be tempted to shrug our shoulders with a sigh of "But it's Christmas," and then wind up exceeding our budgets. This year I'm having to stop, take a deep breath, and make sure that what I'm getting is really what I should be getting.
This month's
money meeting
was not without its unsatisfying realizations. Our rental property is in transition right now which means extra expenses and money being diverted to pay the mortgage for an empty house as well as repairs to ready it for a new tenant. Couple that with the fact that we've had several travel weekends and there isn't a whole lot of fat.
But, I'm thankful that my husband and I are a great team of problem solvers. I dug through my wallet for the gift cards languishing there and found that we had a fair amount of cash at our disposal. Prompted by this, FishPapa dug out a gift card that he thought was empty only to find that he had almost $100 on it! Yeehaw!
We lay in bed that night discussing our Christmas shopping plans for our children. The girls could care less; they don't really know what the gift-getting thing is about.
But the boys? That's another story. They are not selfish about it; they realize that resources are limited. But at the same time, we don't want them to be empty-handed on Christmas morning. So, we discussed what they would like and came to some decisions that we were both happy about. I can't really tell you, because who knows when some FishBoy won't be looking over my shoulder. But, watch for my "FishBoys Gift Guide for Boys" next week for some clues. Heehee.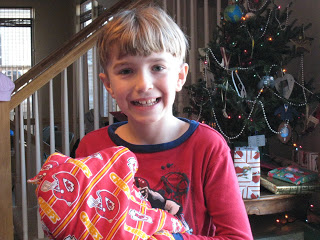 Anyway, another decision that I feel really good about was that we're going to put off our long-anticipated camera purchase. For several months, we've been saving our Swagbuck-generated Amazon cards for this camera. But, we have a camera, and it works fine.
And now, we have a big credit in our Amazon account. And not as much money as we'd like in the bank. So instead, we decided to use those Amazon funds to buy the kids' presents — if the prices were right. That would greatly reduce our out-of-pocket expenses.
Now, don't think we've gone all martyrdom or anything. We just realize that we can say no to a good thing (a camera we don't "need") in order to say yes to a better thing, more funds that stay in the bank.
How happy was I to find out that the items I had priced out at Walmart were each $5 LESS at Amazon! I didn't think anyone could beat Walmart's prices. It was an added blessing to see that our wiser decision was going to reap us more benefits. Plus, I can shop from home!
I would highly recommend browsing Amazon for your Christmas shopping. Just know that their prices fluctuate frequently. The items that I snagged at a great deal have risen in cost in the last couple days. If you order in the next week, you can still get free Super Saver Shipping in time for Christmas. But, if you want free 2-day shipping, try Amazon Prime for free for one month (new subscribers only). I've tried this service in the past, and it saved my bacon on a number of occasions.
Whatever you do or wherever you shop, may you get the BIGGEST bang for your buck! Happy Shopping!