Christmas Tour of My Home
We are a participant in the Amazon Services LLC Associates Program, an affiliate advertising program designed to provide a means for us to earn fees by linking to Amazon.com and affiliated sites. We participate in other affiliate programs as well. For more details, please see our disclosure policy.
This year as with all years previous I envisioned an immaculate, perfectly decorated home at Christmas. Beautiful wreaths, wonderfully arranged
tchotchkes
(def#2), chestnuts roasting on the open fire; Jack frost nipping at my nose; you know the story….
And then I woke up and smelled the coffee.
There are just a few things to get in between me and that Better Homes and Gardens image:
I have pretty close to zero decorating or creative crafting abilities. I've tried, and it just doesn't look right.
Our house is very lived in. Since we homeschool, we are in our home the majority of the time, at least during the school year. Cleaning and tidying is like shoveling snow in a snowstorm. I can rarely get ahead.
I've never really wanted to invest the amount of money to buy the right things. (And forget about DIY – go back to #1)
But, that doesn't mean I won't show you my home, warts and all. Most of these shots were taken on Sunday morning before anyone awoke. That gave me the best chance of finding things "at their best." So, here's your tour of the FishHouse, at least the downstairs.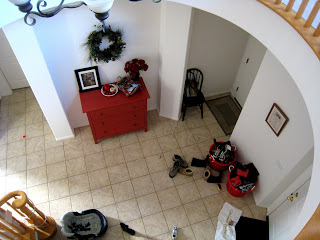 Our entryway: front door at the bottom right. Shoe buckets in disarray.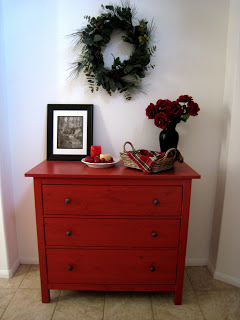 My one little place for
tchotchkes
, or decorative knick-knacks. We haven't purchased much furniture over the years. Most pieces are hand-me-downs, but this dresser we bought from IKEA this fall. LOVE the color.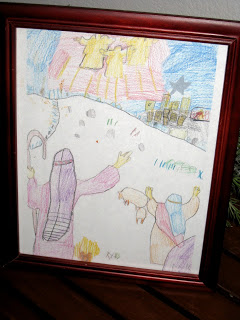 Years ago when I used to send Christmas cards, I often made them. Several years I scanned pictures that FishBoy12 had drawn. This is one of them. Love that memory of my aspiring artist.
I keep a collection of Christmas books that we bring out only in December. (Somehow a Bionicle book has joined the collection this year.)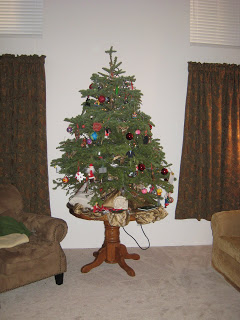 Whenever we have a toddler in the house (which has been 10 of the last 12 years) we've purchased a smaller tree and placed it on a table high away from reaching fingers. I love doing this. It takes a lot of stress out of my life not watching the Baby undecorate the tree. And since we buy a live tree every year, we pay a smaller price since the short trees are less expensive.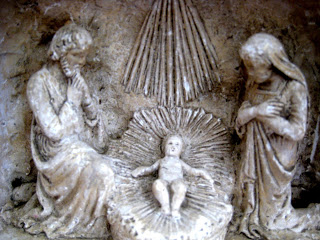 This is the one nativity I own. It belonged to my grandparents and perhaps my great-grandparents who lived in Winona, Minnesota. It is small — you can see it under the tree in the above picture. It is stamped 193-. The last digit has been chipped off.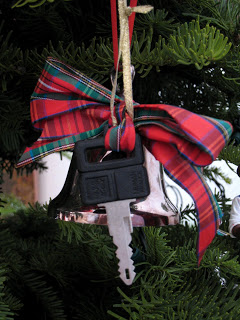 A lot of our ornaments are of the "untraditional" sort. I can make anything into a birthday cake — or a Christmas ornament.This is the car key to the little red car FishPapa rented in France when he came to visit me the year I lived there during college.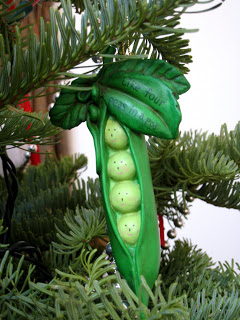 One of my favorite ornaments. My in-laws bought it for us when it was just us and the FishBoys.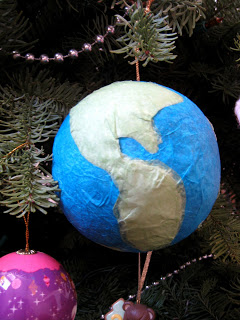 The first of our Jesse Tree Ornaments.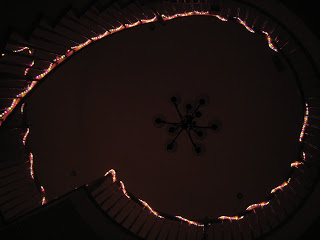 Instead of hanging lights outside, I ran them up the spiral staircase. Makes even bedtime a little festive.
And then there's this guy who graces us with his presence every year. And I'm wondering WHY did I put new batteries in this year?
Don't forget to visit The Nester for the Christmas Tour of Homes. I'm sure you'll see some bee-youtiful places!