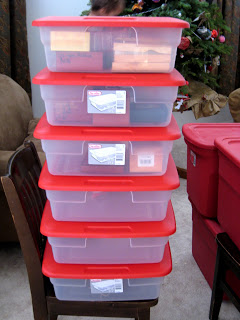 So, it's all boxed up, right? Ready to be stored away until next year. The red boxes on the right gave way this year to the six red boxes on the left. Each kid has his own box, labeled with his name. This should make decorating SOOOOOOO much easier next year. I can't take credit for this; it's all FishPapa. He insisted on new boxes once he experienced first hand the craziness of figuring out whose ornaments was whose, because, you know, you have to hang your own ornaments! Problem solved thanks to dear old dad.
Two weeks ago we were bustling about trying to get ready for The Day. And now that the craziness is over, it's tempting not to think of it again. But, before you pack your thoughts away in the garage or attic along with the decorations, here are just a few things to consider:
What post-Christmas/pre-Christmas planning do you do?