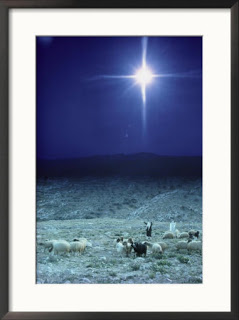 Christmas is the celebration of God becoming man.
You know, Jesus?
God the Son, came to be with his people in a new way, in the flesh, in order to reconcile them to Himself. Despite whatever revisionist history you've been subjected to in the past, whatever warm fuzzies you've heard about faith, hope, and love, peace on earth and good will toward men — without Jesus, Christmas isn't Christmas.
It is the time when we celebrate that God the Son became Incarnate: took on human form, in order to live a perfect human life, to face temptation just like the rest of us, yet not sin, and to die on the Cross on the behalf of those who would put their trust in Him.
You see, we can't do this life without God. We can't do this life without a reliance on the saving work of Jesus Christ. The Bible says,
for all have sinned and fall short of the glory of God, and are justified by his grace as a gift, through the redemption that is in Christ Jesus, whom God put forward as a propitiation by his blood, to be received by faith. This was to show God's righteousness, because in his divine forbearance he had passed over former sins. It was to show his righteousness at the present time, so that he might be just and the justifier of the one who has faith in Jesus. — Romans 3:23-26
Despite all our best intentions, each of us falls short before the Good and Holy God. We need Jesus.
And that is why He came.
For God so loved the world, that he gave his only Son, that whoever believes in him should not perish but have eternal life. For God did not send his Son into the world to condemn the world, but in order that the world might be saved through him. Whoever believes in him is not condemned, but whoever does not believe is condemned already, because he has not believed in the name of the only Son of God. — John 3:16 – 18
That is why we celebrate. That is the true meaning of Christmas. To rejoice in God's goodness toward us — that He made a way for sinners to be reconciled to Himself. What a glorious truth!
This reconciliation is not merely a free pass to play a harp in heaven someday. It is freedom! Freedom from the weaknesses and sins that drag us down, hurt us, and hurt other people.
In light of that, Christmas celebrations are a means of great rejoicing! It's my hope that we will not be so distracted by wrappings and ribbons that we can't simply relish in Christ's love for us. Imagine a holiday season where you are relaxed, even if things don't go your way. Even if the Christmas tree falls over in the middle of the night with a crash to wake all of China. Even if you don't get the present that you want. Even if you can't create the Norman Rockwell holiday of your dreams.
Yes, planning ahead will help you achieve a sense of calm. But more importantly, knowing the truth about Jesus and why we celebrate His birth will give you infinitely more peace — a peace that lasts all year long.
image from allposters.com