If you clean up after yourself as you go through your dinner prep, you'll save time. And your kitchen will be clean when you're done.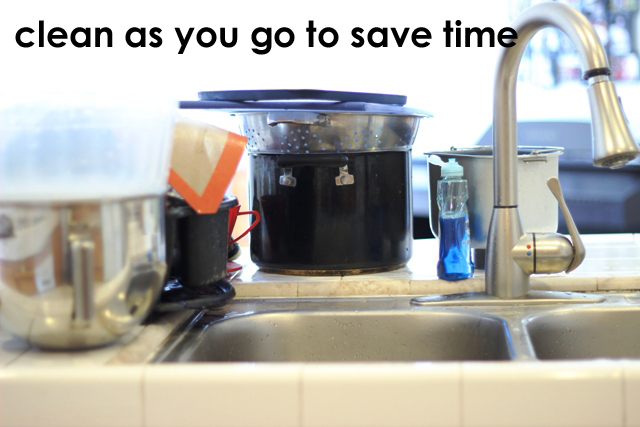 This weekend I did a ton of cooking. And even though I have kitchen helpers, I made a point to clean as I went through my list. My nine-year old son is on dish duty this month. It's easy to get overwhelmed by a big pile of dirty dishes when you're nine.
Heck! It's easy to get overwhelmed by that when you're 41.
So, I did what I've always known to be helpful, but don't always do: clean as you go.
Clean as you go to save time in the kitchen.
If you clean as you go through your list of kitchen tasks, you won't have such a big mess at the end of your work time. How does this really save time? Let me count the ways:
1. You're already setting the dirty dish in the sink or on the counter. It takes just a few seconds to give it a quick rinse (if needed) and set it down in the dishwasher instead. Then no one has to come along and pick it up and set it down again in order to get it clean.
2. Cleaning a fresh kitchen mess takes just seconds compared to cleaning a mess that has sat for several minutes or hours.
3. There are lots of little minutes while you're prepping food. While you wait for the water to boil, you can do things to tidy your kitchen. This gets the kitchen clean while you're there anyway. When your cooking time is done, it will take but a few swipes of the counter to be able to move on to something else, like reading a book or watching a movie.
4. A small pile of dishes is always more fun than a big one. Or to phrase it another way, a big pile is intimidating and takes exponentially longer to clean than a smaller one, with the overwhelmed factor taken into consideration.
Clean as you cook and you'll save time in the kitchen.
This post is part of the Kitchen Time Savers series. You can follow along this month as we explore lots of ways to make more efficient use of our time in the kitchen.

Don't want to miss a post in this series? Subscribe to 31 Days of Kitchen Time Savers here. Get updates via email here.