Clean the Kitchen Before You Go to Bed to Save Time
We are a participant in the Amazon Services LLC Associates Program, an affiliate advertising program designed to provide a means for us to earn fees by linking to Amazon.com and affiliated sites. We participate in other affiliate programs as well. For more details, please see our disclosure policy.
Leave the kitchen clean when you head to bed at night and you'll have a nice kitchen to wake up to in the morning.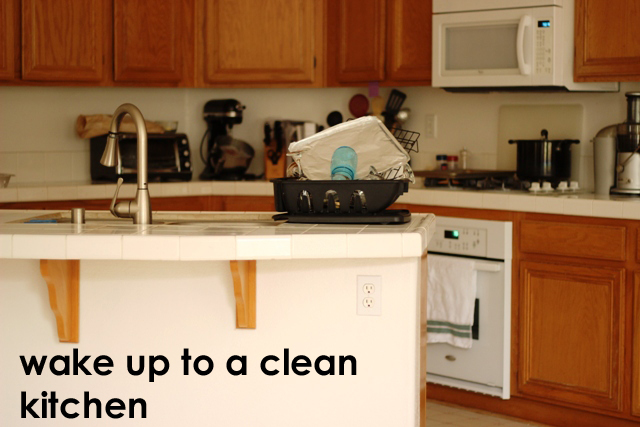 This may come as a no-brainer to some of you. To others it is a timely reminder. If you go to bed with a clean kitchen, you will wake up to a clean kitchen.
(Barring an invasion of crumb-scattering zombies, of course.)
And if you wake up to a clean kitchen, your morning and the rest of your time in said kitchen will be pleasant and efficient.
No one wants to wake up to a sink full of dishes. And if you've got kids who help with kitchen chores, the morning rush may preempt their ability to do said chores. But, if you and yours make sure that everything is washed up before you head to bed, you'll have a great start on the day. Easy peasy.
A clean kitchen is a beauty to behold as well as a way to have a nicer morning.
This post is part of the Kitchen Time Savers series. You can follow along this month as we explore lots of ways to make more efficient use of our time in the kitchen.

Don't want to miss a post in this series? Subscribe to 31 Days of Kitchen Time Savers here. Get updates via email here.