Cleaning and Decluttering the Bathrooms (Zone Defense)
As an Amazon Associate I earn from qualifying purchases. For more details, please see our disclosure policy.
I hope you haven't forgotten Zone Defense! This year, we're going through our homes, zone-by-zone, tackling different areas of home life. This post originally appeared on August 28, 2012. It's back as a reminder to get to the bathroom and make it spiffy.
Life as MOM contributor, Janel, offers some tips to get you going on the bathroom. With everyone getting into an early morning routine for school, now is the time to get it ship-shape.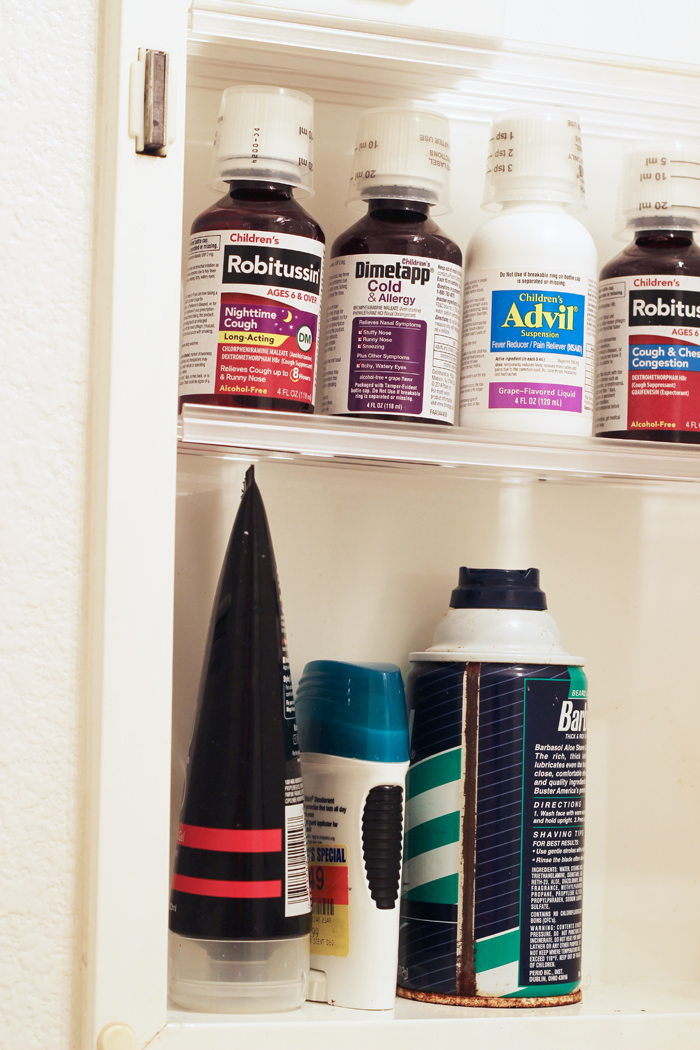 This month on Zone Defense,  we'll be tackling the bathrooms. Because it is a room that everybody uses, chances are there you'll have a bit of everyone's clutter to deal with in the bathroom.
If you haven't already completed The Home Inventory Questionnaire, take a minute to do so with your bathrooms in mind. What bothers you about your bathrooms? What changes can you make to eliminate your irritation? Keep these things in mind as you sort through the areas of your bathroom. Also, keep a paper and pen handy to keep track of any supplies that you'll need to buy.
Start with the medicine cabinet.
Go shelf by shelf in your medicine cabinet and safely discard any expired medications. Get rid of any other items that you don't use. Reorganize what you do use. As you go through the cabinet, make a note of any medications or supplies that you need to buy. When your child wakes up in the middle of the night with a fever or you develop a raging migraine, you don't want to discover that you don't have any medicine on hand to treat the problem.
Continue with one drawer and then move to the next.
Empty the drawer. Discard any trash, and wipe the drawer clean. Is there a "theme" to what is normally stored in this drawer? Is this drawer a good and logical place for these items? If not, decide on a new home for them. If so, replace the items in the drawer in an organized fashion that makes it easy to locate what you'll need. Would drawer dividers help you organize this space? If so, add them to your shopping list. If drawer organizers aren't in the budget, consider making some of your own custom storage boxes from cereal boxes. After one drawer is clean and organized, move onto the next drawer. Continue the empty, wipe clean, purge, and replace process.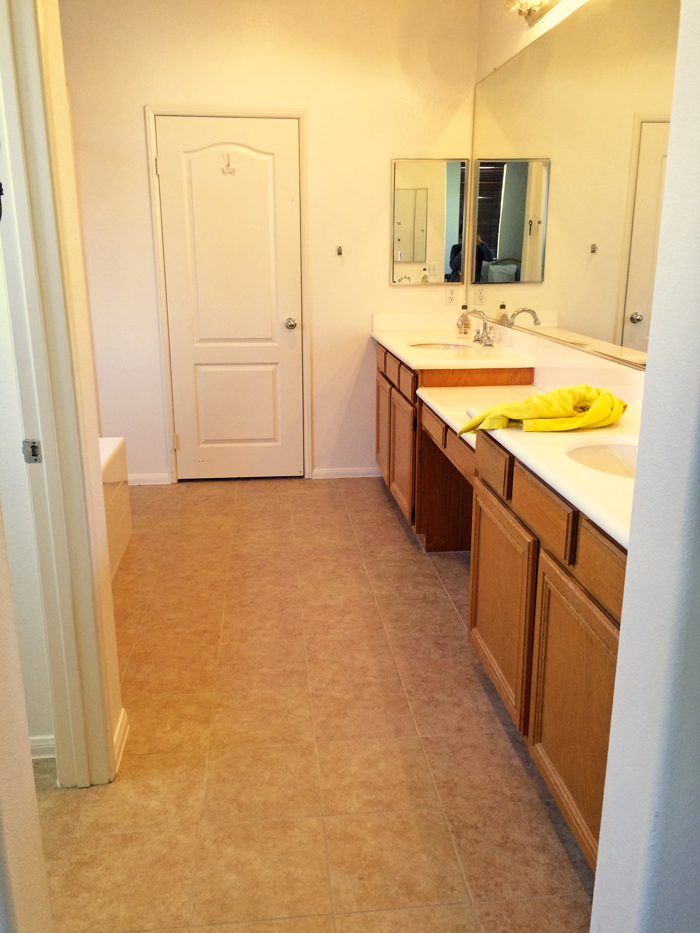 Move onto the bathroom cabinets or cupboards.
Apply the same method – empty, wipe clean, purge, and replace. As you reorganize, move items to the place closest to where they will be used. Move extra toilet paper close to the toilet, and place extra towels closet to the shower or tub.
Because cabinets and cupboards have so much open space, you may want to consider baskets or plastic shoeboxes to organize items that you want to store in there. Give each box or basket a "theme" to make it easy to locate items when you need them. Don't forget to label them so that your family can locate the extra toothpaste without having to ask you for it.
Consider creating a "Travel / Guest" box to house all of those small travel-size bottles that seem to accumulate in bathroom cupboards. Then, when you're packing for a trip or preparing for a guest in your home, you'll be able to find the essentials quickly and painlessly.
Also, remember that you don't need to have every square inch of your cabinets filled! Empty space is a beautiful thing. You'll want to make sure that you have ample space to store supplies, such as toilet paper, when you're able to find a good deal on them. Having empty storage space allows you to stockpile.
Consider what you leave on your countertops.
It's a simple fact – clear countertops make your bathroom look tidier. If possible, consider moving what you normally leave on your countertops into a basket that you store in an easy-to-access spot under the sink. The added bonus of a clear countertop is that it is easier to clean too!
Hit the shower (or tub).
Showers and tubs can get cluttered too! Make sure you ditch any empty bottles or products that just didn't work for your family. Consider how many products you really need in the shower. Do you have an efficient way to store your bath products? If not, add a shower organizer to your shopping list. Has your shower curtain/liner seen better days? Clean it if possible, or make a note that you need to buy a new one. Are the bath toys taking over? Make sure you have a way to store them either in the shower or in a waterproof basket in the cupboard.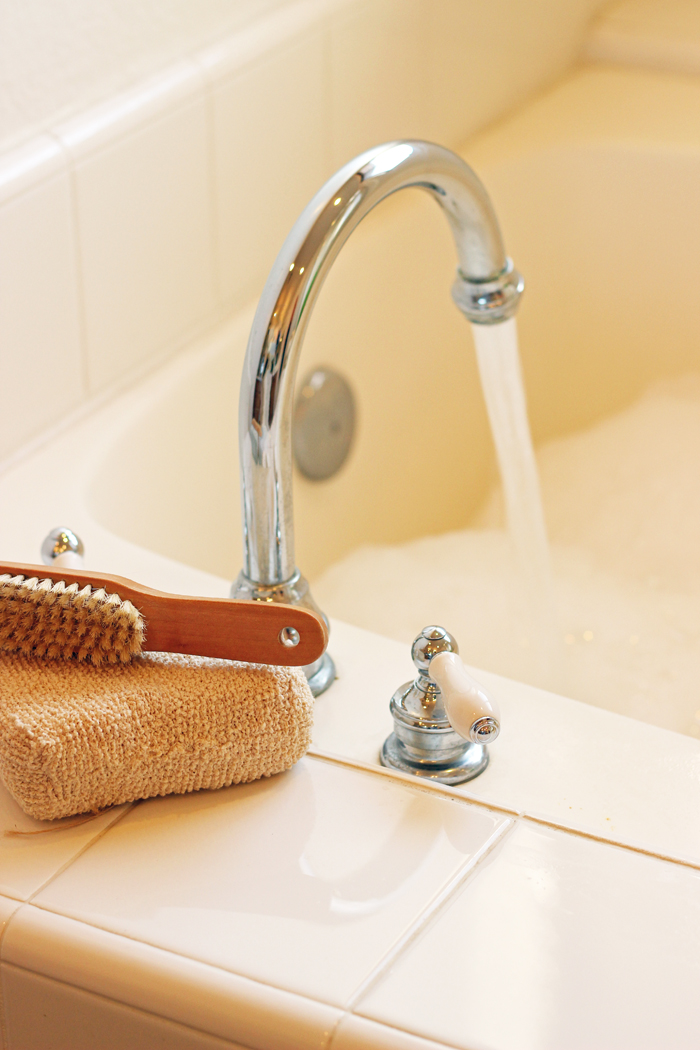 Give the bathroom a good scrub down.
Now that everything is neat and tidy, clean the bathroom. If you've neglected the bathroom for awhile, it might take some elbow grease to cut through the grime. Make an easy plan to keep it clean in the future. If you clean the bathroom on a regular basis, the upkeep is much simpler and faster. Also, consider storing a basket of cleaning supplies in the bathroom to make it easier to clean that mirror or wipe down the countertops whenever you notice that it needs it.
Take out the trash and the discards.
Get rid of the trash, and deal with anything that you want to donate.
Pretty Up the Bathroom

An organized bathroom doesn't have to be a boring bathroom! There are ways to make your bathroom pretty AND useful.
Got any tricks for keeping the bath looking spiffy?
–Janel is a stay-at-home mom of two daughters and a "law school wife" in Virginia. Raised in a budget-conscious and DIY-minded family, she blogs about motherhood, crafts, and living on a law school budget at Life with Lucie and Ella.