Cleaning & Decluttering the Master Bathroom (Zone Defense)
As an Amazon Associate I earn from qualifying purchases. For more details, please see our disclosure policy.
We're going on Zone Defense this year, tackling clutter and reorganizing our homes to suit us and the way we live. This week we're facing the bathroom.
This month on Zone Defense, we're tackling personal space. And what area of the home could be more personal than the bathroom?! But not only the place where we return Nature's calls, the bathroom is where we moms typically get our start on the day.
While clothes make the woman, she still needs to do her hair and make-up in order to make the package complete. So this week, we're going to tackle the drawers and cabinets in the MASTER bathroom as well as clean said bathroom.
(It's okay if you have other bathrooms in the house, we'll deal with them later. Let's take care of you, first. If yours is a one-bathroom household, that's cool, too. It will help you either way.)
If you completed task #1, The Home Inventory Questionnaire, you will have an idea of whether you love or hate your bathroom. Keep the answers in mind as you purge and reorganize so that you can be mindful of the things that will help you love this room again if you don't already.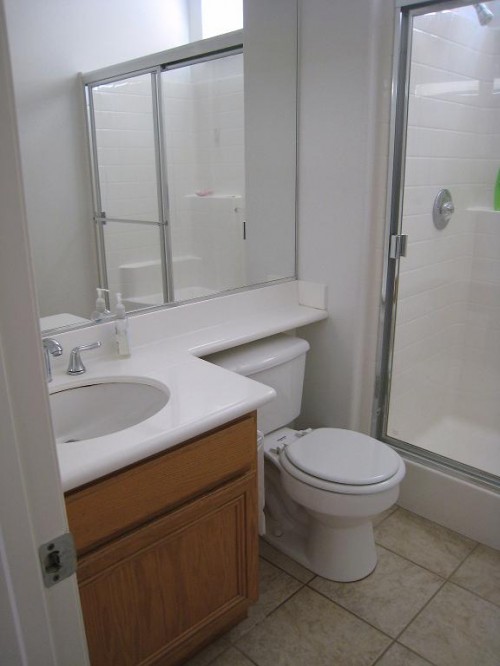 Start with one drawer and work your way around the room.
Empty a drawer. Discard any trash. Do you see a theme amongst the items you've been storing here? If so, replace the items in such a way that you can easily locate each one. Add drawer dividers to your spruce up list if you need them.
If you don't see a theme, decide on how you can best use this drawer. Is this a good place for make-up? Dental items? Toiletries? Determine the use of this drawer and replace only those items in this drawer. Anything else can sit on the counter until you find a home for it.
Continue to the next drawer and repeat the process.
Did you find something that belongs in Drawer 1? Put it there. As you go through the bathroom drawers, toss things that are broken, out of use, empty, or no longer useable.
If you have small toiletries that are almost gone, make a point to use them right away or consider packing them in your suitcase. It's easier to pack small toiletries or those that are going to run out during your trip. That way you don't have to cart them home or go out and buy travel size toiletries.
And above all, don't keep any toiletries that you don't use. They're just taking up space and cluttering up your vision.
Life is simpler and more pleasant when there isn't "stuff" blocking your view.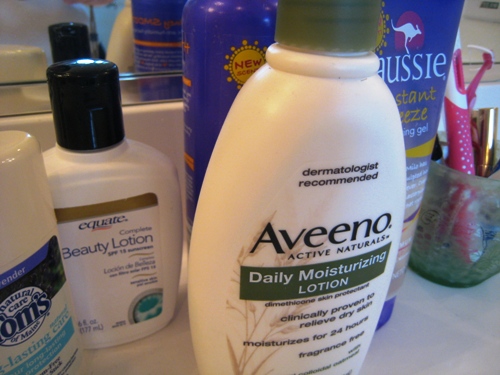 Move on to the bathroom cupboards and cabinets.
Use the same, empty, purge, replace method. As you do so, place items closest to their place of use. Extra toilet paper rolls should go in the cabinet closest to the toilet, while extra towels should go closest to the shower or bathtub.
Don't forget to purge and reorganize your medicine cabinets. Any medicines that are out of date should be discarded safely. Make sure that what you keep are really those that you will use.
Consider what you leave on your counters.
Often we arrange items in this space that could very easily go in a basket under the sink to be pulled out as needed. With clear counters, the room will appear tidier and less cluttered, and just prettier to look at as a whole.
While you're admiring your newly dejunked drawers and cupboards, think about how you could spruce up this storage area to make things easier to find. Would containers, drawer dividers or baskets help you corral bathroom items and make them easier to find? Are your bathroom linens starting to wear? What could you replace or repair to make this room more usable as well as more beautiful?
Make a list of "this-would-really-help-me-out" items and make plans to go shopping and price these items out to purchase as the budget allows. (Download the Room Organizer Chart here.)
Scrub it down.
Now that things are decluttered. Give your bathroom a really deep clean. You know that "til it shines like the top of the Chrystler Building" kind of shine. Then make a plan for upkeep. Don't let clutter and dirt accumulate. Instead, stay on top of it. The bathroom will look better — and funny thing is, so will you!
Take out the trash and the discards.
Deal with them appropriately. Consider Kate's advice about the big "dump or donate" question.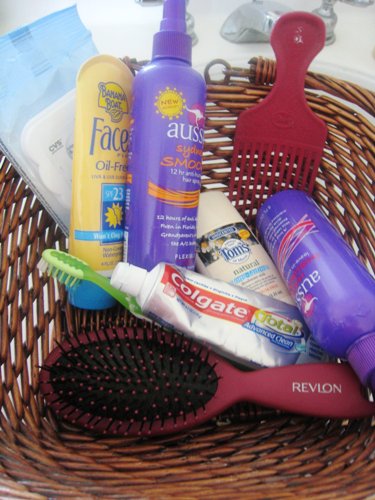 Managing your time.

Since this task (your bathroom storage) involves a complete emptying of the drawers and cupboards, you'll need to start and complete each area in a set amount of time. If you have to stop before completing the entire bathroom, corral those items that don't yet have a home in a basket and continue the process at your next available moment.

If you can't find one block of time to complete the whole project, break it into chunks that can be spread throughout the week:

– purge and reorganize/rearrange a few drawers or cabinets at a time
– plan renovations and improvements
– deal with discards
Related Reading:
How will you tackle your bathroom this week?