Cleaning House
As an Amazon Associate I earn from qualifying purchases. For more details, please see our disclosure policy.
Find your house in a mess that paralyzes? Time to hit the reset button so you can get back to business.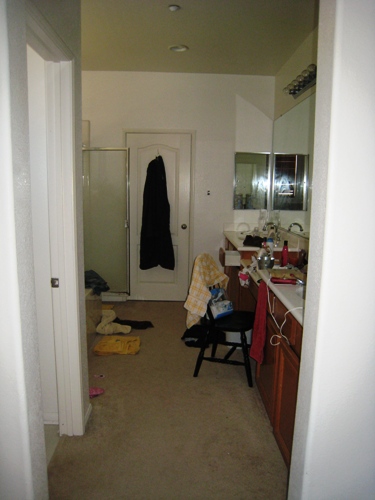 It's been one of those weeks. Yeah, I know. As I type this, it's still Monday. I'm referring moreso to the previous seven days. A week ago I was plotting my hubby's 50th birthday celebration. And after that, the week, well, it just ran away from me.
The week ended with some great stuff: a couple days of freezer cooking sessions, a Papa-six kids outing that left me with a quiet house while I cooked, kids playing all day long in the sunshine with their friends, a shopping trip with a friend. All good stuff.
This morning my 12-year old made crepes for everyone. How's that for a Monday morning?
Though I set my alarm for 5:45, I kept pushing the snooze. When I finally got out of bed, I knew that I had a long, long to-do list on my hands that was worse for not waking early. Not only did I have really great things to do like tax prep, but I also had a mess to deal with. All the fun activity of the last few days took its toll on our house. It was an absolute wreck. Absolute. wreck.
Now I am admittedly, not a clean freak. I can let things go to a certain extent. And then I become paralyzed by the messes. I have to do something about them or I will feel like I am slogging through quicksand.
Or at least mountainous piles of laundry.
Rather than try to tackle my to do list, I changed plans for the day. Instead of business as usual, the kids and I worked on pushing the reset button. You know, that button that makes your house go back to the way it's supposed to be.
Don't have a button? Oh yes, you do.
How to push the reset button on your house:
There are seasons when home maintenance is just hard to tackle. The comings and goings of life keep you coming and going while  backpacks, mail, grocery bags, and other miscellany pile up around you. The visual clutter is exhausting and paralyzing. You need to make a change.
Just like a computer slows down when it's asked to tackle too many tasks, so does your home. That's when it's time to hit the reset button. Here's how:
1. Put the non-essentials on hold.
If the state of your home is causing you stress, then it's time to put the brakes on non-essential activities. You might still need to go to school or work, but you probably don't need to go shopping or to a party or hang out on Facebook.
For my part, I decided that the tax prep and the email and school work could wait another day while I regained some equilibrium in our home.
2. Make expectations and hopes clear to those involved.
I explained to the kids my plan. "We let things slide too far over the weekend and we need to catch up." I laid out my expectations for them at the start. I also communicated my plans to my husband so he knew what my goals were and could help me when he got home.
3. Minimize mealtimes.
After clocking a lot of hours in the kitchen for the Pantry Challenge last month, I knew that I needed to simplify meals while we got our household back under control.
My 12-year old handled breakfast and lunch. Hubs was able to handle dinner prep, an easy Mexi-bar.
I stayed out of the kitchen where I am apt to cook up all kinds of projects, both literally and figuratively. I didn't get the pies made that I had planned on, but they'll be a fun treat for tomorrow.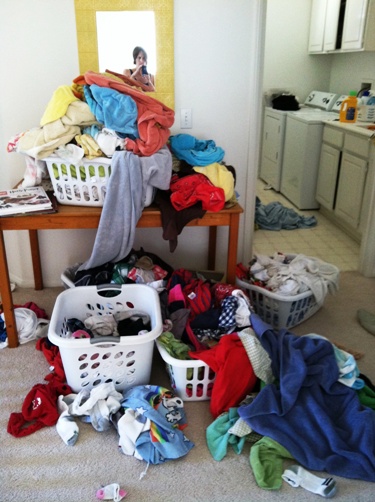 4. Get the machines to work.
If you have laundry to do or dishes to wash, get those machines going first thing. By the time the wash cycle is done, you'll be ready to change it or fold it or put it away instead of having to come back later when the rest of the work is done. The machine can work while you're working on something else. If several people will be sharing one vacuum, get that baby running and keep it running until everything's done.
I estimate that we did about 6 to 7 loads today, including sheets and towels. We'll have clean clothes for at least another day or two. And we did a whole-house vacuum.
5. Delegate.
Delegation does not come easily to me. But, I know I will drown without help. I assigned each of the big boys a bathroom as well as their rooms and several other tasks. There's no way I could have done it on my own, nor should I have tried.
Nor should you. It's good for our kids to participate in the workings of the household. Be sure to assign a task to the youngest child capable of doing it. Save the bigger, harder jobs for the bigger kids.
6. Change what's not working.
I spent the bulk of my day reorganizing the girls' clothes and toys. As cute as the Cupboard Under the Stairs is, it just isn't working for us. The girls want to play in other areas of the house, defeating "the containment of stuff" that I hoped the play cupboard would provide. They now have a new play area in their bedroom. We'll see if that works.
Or change it when it doesn't.
Be okay with good enough.
Is my house sparkling clean? No, it's not. Eight people live here. Things are destined to drift to chaos, but we spent a good amount of time setting things to rights. A little focused time has set us on the right track for the rest of the week. It also has served as a reminder not to let things get so far-gone that it becomes paralyzing.
In the end, the kids and I all feel good about what we've accomplished together. And hopefully, everyone will have clean socks and underwear tomorrow.
Do YOU ever have to hit the reset button?
How do you reclaim your home from chaos?