Cleaning Out the Linen Cupboard & Laundry Room (Zone Defense)
As an Amazon Associate I earn from qualifying purchases. For more details, please see our disclosure policy.
Are you on Zone Defense with us this year? This month we're tackling laundry rooms, linen cupboards, and clothing storage. Get in the game!
So, last week, I said that we were going to clean out the laundry room and the linen cupboard, right? Confession: I didn't really want to. Status quo has worked for so long, so well, why change?
It wasn't really working, but lies and justification can sideswipe us when we least expect it, can't they?
But, if I told you to do it, then I had to do it, too. So I did. It took me about an hour to an hour and a half, with interruptions and no music. Music might have moved things along a little more. Note to self: play music during the next project.
So, here's the tour: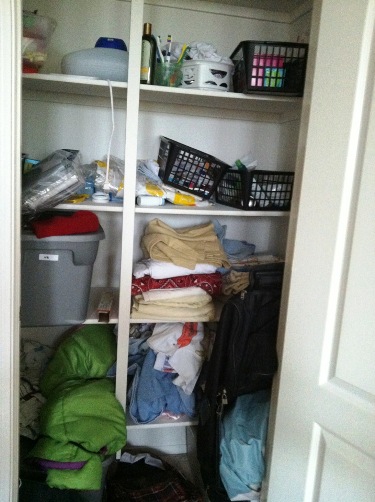 You've seen my linen closet before. Didn't I just clean this sucker out? Apparently, in two years' time, it's a little worse for wear. This closet opens to the hallway here: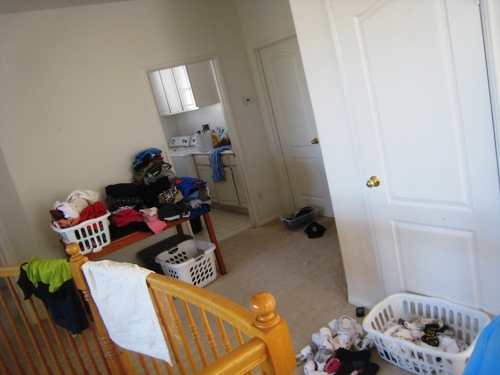 I started with the linen closet:
I completely emptied it. I moved the laundry table closer so I had space to pile things. All kinds of interesting things: luggage, baby blankets, baseball hats, toiletries, medicines, and oh yeah, sheets and blankets.
I'm a firm believer in using your space for the way you live. So, there aren't any towels in our linen closet. They belong in the bathrooms. That's just how I roll. So, typically, this is storage for linens (aka sheets and blankets) as well as other things that we need regular access to.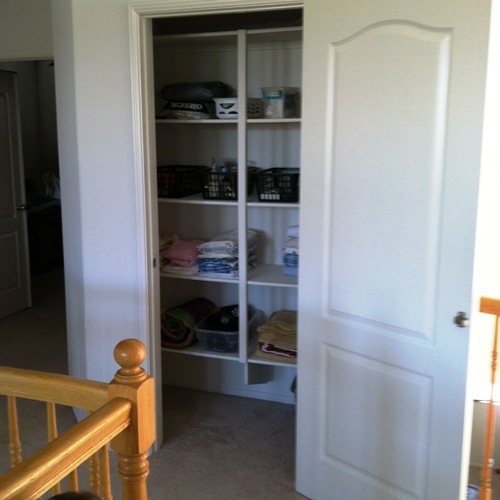 Here's how it looks now. Whoohoo! I like to open the door just to admire it. Here's what I did:
refolded the sheets and blankets
corralled the toiletries in the baskets that were already there: dental stuff, body stuff, hair stuff, bandaids, shoe cleaners/polishes/extra laces
tossed outdated medicines and old toothbrushes (I had a small collection of mystery toothbrushes that I had run through the dishwasher to sanitize, but I figured I could chuck them.)
discarded some old "stuff"
rolled the Tinkerbell sleeping bag
moved the luggage to an unused bedroom closet
reorganized the stuff that stayed: vacuum cleaner bags, baseball hats, etc
Next I headed to the laundry room. It's got three upper cupboards and three lower cupboards and one drawer. Check out my unused storage.
Cupboard 1: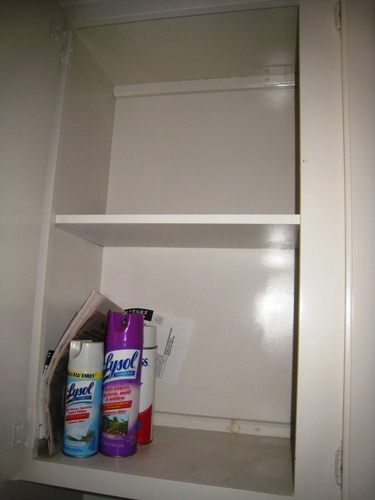 Cupboards 2 & 3: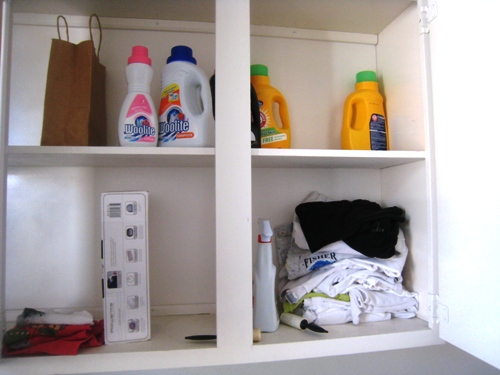 As you can see, I have plenty of storage space that I was not using effectively. Time to fix that. So I did.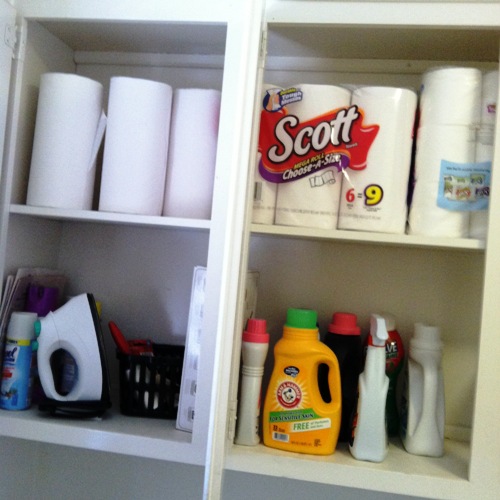 Previously, all the extra paper towels and toilet paper were in my closet. Yes, after I cleaned it all up, I tossed paper products in there! Scandalous! We don't use paper toweling that often, but I bought this supply months ago at CVS on a great sale. Usually I have a big stockpile of laundry soap, too, but I'm running low on that. Looking for a good sale….
I consolidated the clothes care stuff on these bottom shelves.
On the other side I corralled all the cleaning cloths in a Sterilite box. Love those boxes.
One of my "donation stations" is under the laundry room sink. I had stashed all those clothes from my closet purge under there and conveniently forgotten them. Status quo, you know. So I emptied that out: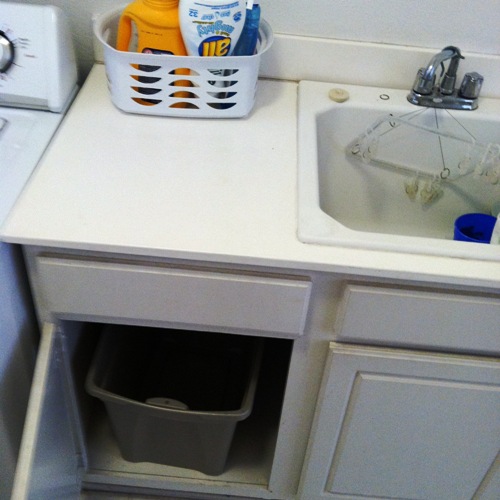 Looking good, eh? Check out what went out the door: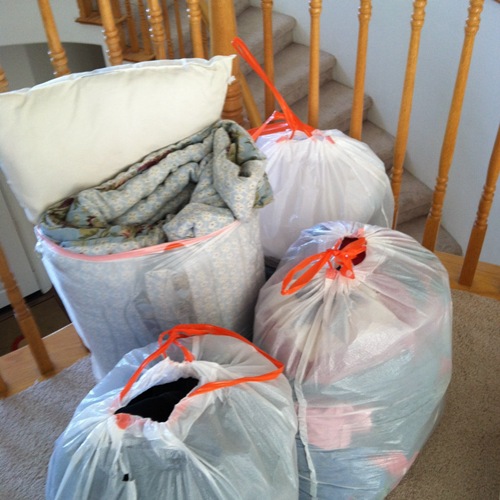 Four big bags, plus a small paper sack not pictured.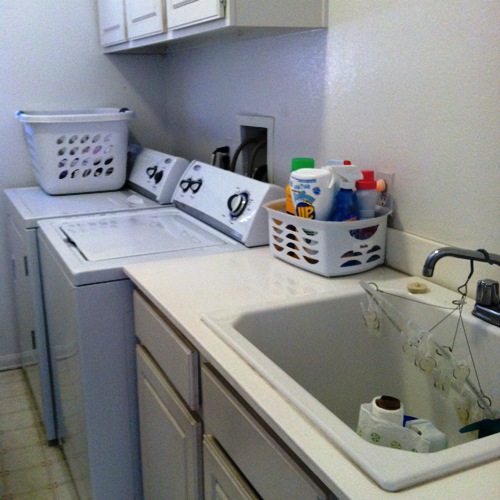 At this point, I'm feeling pretty good about my efforts. Until I remember The Drawer. Oh yeah. I almost walked away.
Almost.
But, I knew you'd want me to do it.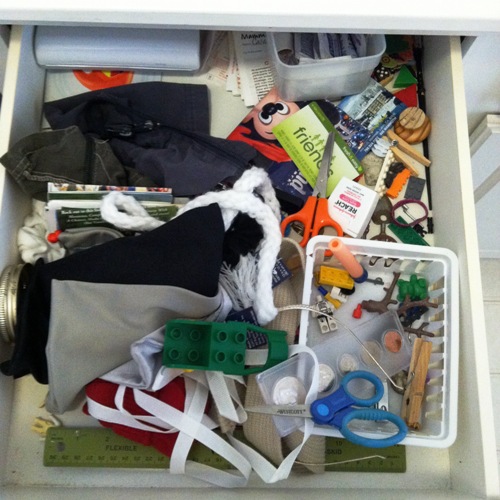 Scary, isn't it?
I wonder if I have junk drawers in every room of the house. I decided to go for it, and it wasn't as bad as I feared. In fact, most of it went in the trash.
And guess what I earned for my pains?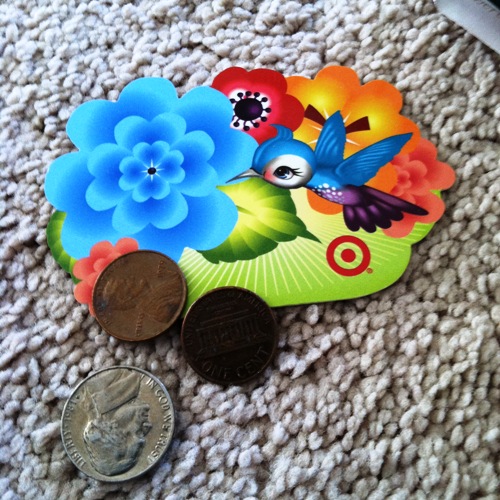 I'm not sure how much the gift card is, but it has one of the kids' names on it. So, I made seven cents. Cool.
And now, the laundry room really is clean and tidy. Yeah!
So, there you go: cleaning out the linen cupboard and laundry room. If I can do it, so can you! Head back to last week's post for tips on how to get started cleaning this zone. And then come back and tell us how it went!
What's your biggest laundry/linen cupboard challenge?