Climbin' on the Birthday Express
We are a participant in the Amazon Services LLC Associates Program, an affiliate advertising program designed to provide a means for us to earn fees by linking to Amazon.com and affiliated sites. We participate in other affiliate programs as well. For more details, please see our disclosure policy.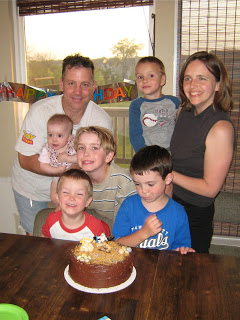 May heralds the beginning of the celebratory season at our house. As if Mother's Day and our anniversary weren't enough, my husband gets hit with a FishMama Trifecta with the arrival of my birthday near Memorial Day. Poor guy has three major holidays to cover.
But, in addition to the FishMama festivals we also have the births of three of our children to celebrate — in the span of three weeks. We celebrate a lot of birthdays around here.
I started out with good intentions when my oldest was a little boy….promised just a special cake and a pinata. And then, well, I got a little carried away. I went crazy, hosting big birthday parties with many guests, homemade costumes, handmade pinatas and elaborate cakes. What took weeks to plan was consumed in three hours and I was crabby and exhausted before it even started.
Thank God for a brief season of unemployment last year because it caused me to slow down and not do too much. It was definitely a blessing in disguise. Because we couldn't afford a big bru-haha, we had to downsize. And I think we had just as much fun. (I know I had more than I had before!)
Since then we've returned to some of the basics: I bake and decorate a special cake; the Bday kid gets to choose the menu for the day; and we plan an adventure for that day. You can guess the FishBoys have all sorts of plans brewing in their heads these days. Little did I know that all three were scheming about the Indiana Jones cereal we saw one day at the grocery store. The Indiana Jones cereal that is now impossible to find. Nice…. why didn't I buy ten boxes, keep three, and sell the others on eBay??
All aboard?! Ready to come with us on the Birthday Express? Come back tomorrow for a tour of Bday Cakes Past and an ultrasimple how-to. They are SUPER EASY, inexpensive, and so fun to make. Since they are theme oriented, the birthday kid feels really special. Plus, there are some tricks to make boxed ingredients taste great. (Psst — Chocolate is one of the secrets.)