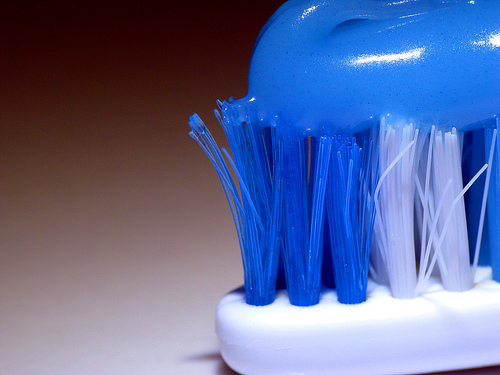 Photo Source: jhoc
Dental products are one thing that I love to stockpile. Usually with coupons and sales, I can get whatever we need for very low prices. But, a funny thing has happened over time. Since sales on dental products are so prolific, I've felt the freedom to be a little picky about which ones I buy. In fact, I've discovered some brands of toothpaste make me gag. Ick.
Colgate, however, is a gag-free brand in my book. And, therefore it's one I will jump for if I see it on sale.
And with 8 mouths to clean — two with orthodontia — we can go through quite a bit of toothpaste and floss. And toothbrushes? It seems like they disappear within minutes. I'm sure they're hiding somewhere with all the stray socks and missing spoons.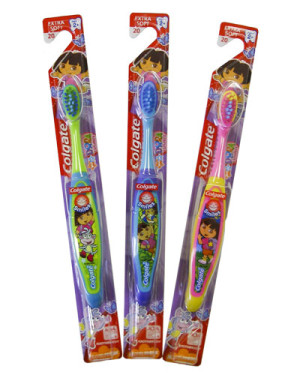 When Colgate Kids sent us a selection of new products, I was quite pleased. And when a Dora the Explorer toothbrush was in the mix? Oh my! You never saw two happier little girls. In fact, Dora is one of FishBaby's most frequently used words. You can just guess what's going to be on her birthday cake!
As if Dora toothbrushes weren't cool enough, we also discovered Colgate's toddler toothpaste which does not contain fluoride, which means its okay to swallow. I rest easy knowing I can let the girls brush to their heart's content.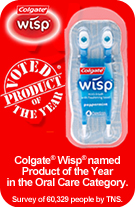 One product that I, the mama, got to try was the Colgate Wisp. These are great little mini brushes that can easily fit in your purse or keep in the car. Perfect solution when mom forgets to pack her toothbrush for a trip or just when you need to fight a bad case of garlic breath.
Win a Colgate Variety Pack for Parents and Kids
One winner will receive a Colgate pack including the following:
1 Wisp
1 toddler toothbrush
1 preschool toothbrush
1 kid toothbrush
1 Pop Star tootpaste
1 Fluoride Free toothpaste
1 Colgate kid toothpaste
Simply leave a comment, telling us what you do to help your kids have good dental hygiene.
Contest will be open until 8pm PST on Sunday, June 27, 2010. Winners to be chosen at random and notified via email. You have 48 hours after email is sent to respond, otherwise you forfeit your prize.
Disclosure:  Colgate provided me with product samples to review. I was not compensated in any way for reviewing this product or offering this giveaway, nor was I required to do so. My opinions are my own. For more information, please see my disclosure policy.