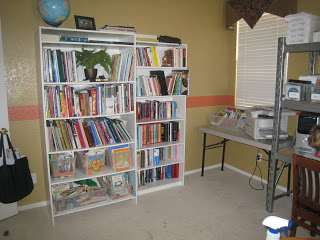 Oh my! That was an ordeal. Three days to get this room shipshape. I literally spent all day in this room. FishBoy12 made lunch. I think I went to the bathroom once. I sat and nursed the baby a few times. FishPapa whisked the kids away for an hour or so to relieve me of interruptions.
It was some work. But, I hunkered down and got 'er done.
– general dejunking
– clear off school tables and wipe down
– declutter bookshelves
– file piles of paperwork
– unpack boxes and remove to garage
– sort through cupboards, clean and organize
– organize computer equipment and CDs
– consolidate last year's records and schoolwork; finish up portfolios
– wash windows and blinds
– vacuum all the nooks and crannies
– hang white boards – decided to wait until we know if we're staying here
– start pricing discarded books/sell on eBay, etc. – my task for the wee hours of tonight – ended up with two boxes for eBay and one box for garage sale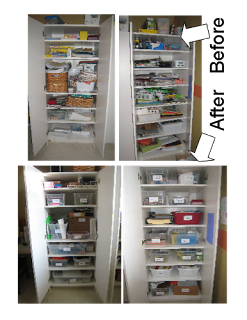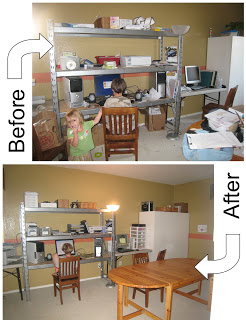 It's so pleasant in here now. I almost can't wait for school to start again!
Almost.
If you're an at-home teacher, I highly recommend doing this. I feel all clean and fresh. I know that I could sit down and plan away and be ready to start the new year with a clean conscience.
I also know what to buy since I've physically handled every item in this room. I've discarded what I don't need or don't use. And I have a fresh sense of what to purchase (and what not to buy) at back to school sales.
For instance, the last two months of school, no one could do any measuring because our rulers kept disappearing. I made a mental note to buy several at the sales. After cleaning out this room, I found EIGHT rulers! I guess I don't need to buy any.
Coming soon: The Playroom, the Dining Room and the Foyer.
How did you spend your day?