Coming Clean, Day One
We are a participant in the Amazon Services LLC Associates Program, an affiliate advertising program designed to provide a means for us to earn fees by linking to Amazon.com and affiliated sites. We participate in other affiliate programs as well. For more details, please see our disclosure policy.

Hoping to make dreams a reality this month!
As you know, last week was the last week of school. We're taking a 6-7 week break before our new school year starts. I've made some plans for our summer vacation which include fun stuff to do with the kids and some cleaning and organizing goals for me.
Awhile back I wanted to do Simple Mom's Spring Cleaning Party but there was just too much going on. Instead, I'm doing it now on my own and I'm adapting her plan to fit my house and my life. A few days ago I mapped out each day in addition to all the other things on our calendar (free movie days, dermatology appointments, more trips to the dentist, etc.) The way I've broken up the work may seem odd on paper, but once you see my house, you'll understand.
Day One: Clean Sweep
Day Two: Schoolroom/Office
Day Three: Schoolroom/Office
Day Four: Playroom, Entryway, and Dining Room
Day Five: Living Room
Day Six: Kitchen
Day Seven: Laundry Room/Hall Closet
Day Eight: Boys' Rooms
Day Nine: Girls' Room and Master Bedroom/Bathroom
Day Ten: Bathrooms
Today was Clean Sweep Day. This is a step to whole house cleaning that I generally don't do. I dream such big dreams and get so antsy to dig in that I usually just pull everything out and make a way bigger mess, ignoring the messes that are already existing. Then, life is miserable for days. My husband gets used to the phrase "It's gotta get worse before it can get better." And I'm generally wore out, stressed, and crabby.
So, this idea is a new one for me. Basically, I went room-by-room, setting things to rights: replacing lost legos, collecting trash, collecting things that I know don't go here or there, putting them where they do go. I did not go very deep at all. Just travelled about clearing counters, collecting junk, and wiping things down as needed. Since I have a plan for each of the rooms, I feel good that I will get to them in a more thorough manner. I can now see my bathroom counter which I don't think I've seen since we moved here. And I collected enough loose change from atop our dresser to go buy me a mocha. Thanks, FishPapa!
I've also tackled the mountain of laundry that we accumulated over our long weekend away. We've got the food and clean underwear covered for the week. And with this clean sweep being done, the house won't be an absolute wreck while I'm demolishing a room a day. Provided that my small army of children isn't demolishing anything while my back is turned.
I love the idea of splitting up the house into manageable pieces. All work and no play makes FishMama a crabby one. Life must go on. Plus, this clean sweep thing helps me feel like I've done something already.
Sorry, no "before" photos. A girl's got to keep some of her pride. Let's just say, the house as a whole resembled your worst housecleaning nightmare. The schoolroom still does: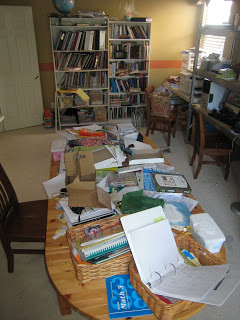 I'll be tackling that mess over the next two days.
Tomorrow and Thursday: The Schoolroom
– general dejunking
– clear off school tables and wipe down
– declutter bookshelves
– file piles of paperwork
– unpack boxes and remove to garage
– sort through cupboards, clean and organize
– organize computer equipment and CDs
– consolidate last year's records and schoolwork; finish up portfolios
– wash windows and blinds
– vacuum all the nooks and crannies
– hang white boards
– start pricing discarded books/sell on eBay, etc.
To see how others have "the itch to pitch," visit The Happy Housewife and check out her cleaning challenge.