Coming Clean: It's Gotta Get Worse Before It Gets Better
We are a participant in the Amazon Services LLC Associates Program, an affiliate advertising program designed to provide a means for us to earn fees by linking to Amazon.com and affiliated sites. We participate in other affiliate programs as well. For more details, please see our disclosure policy.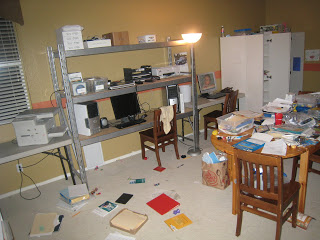 Day Three hasn't progressed as well as I had hoped. I got a late start — that darn twitter. And I'm exhausted now at 11:05. I had about 5 hours sleep last night because I stayed up too late yesterday. Plus, allergies have got me wiped. So, enough is enough.
I'm almost done with dejunking the school room and I have treasure to prove it!
five rulers
the book I started months ago and lost and have been wanting to finish
all sorts of fun activity books for those "Mom, I'm bored" moments
five boxes for garage sale/Ebay
my friend's headlamp and laptop cord
a spare key to the truck
and all sorts of notes for brilliant blog posts!
I guess tomorrow is the day to finish this room and hopefully squeeze in the Playroom, Entryway, and Dining Room. Thankfully, those rooms are practically devoid of stuff. So, it will mostly be cleaning rather than decluttering. And those tasks (vacuuming, mopping, windows, etc.) are easily delegated to my little minions.