As I mentioned yesterday, my summer plans have taken a detour. One of the things that has been redirected is my effort to clean our house top to bottom. It sure is taking me longer than I anticipated. So much for going through the whole house in two weeks' time. But, better now then right before we move. I've got renewed motivation, even though my desire is a little lagging. (I don't wanna move…. but dragging my feet isn't going to stop it from happening.)
Last week I worked on the kitchen. I went through all the cupboards and pulled out things that I don't use. The timing happened to be really good as my brothers moved out of their house for the summer and brought me two tons of stuff from their pantry. It was a great opportunity to empty my own pantry, sort, discard old stuff, gather a box to donate, and reorganize my little warehouse of food. It looks great, and I actually know what I have. It makes meal planning so much easier.
Ta da!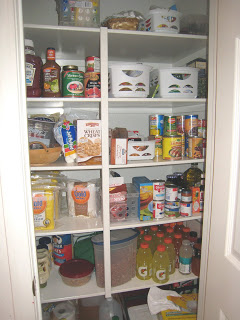 This week? Time to unload clothes that no one wants. Yes, that wool sweater is already heading out the door.
Got an itch to pitch? Check out The Happy Housewife's series to get some great motivation.