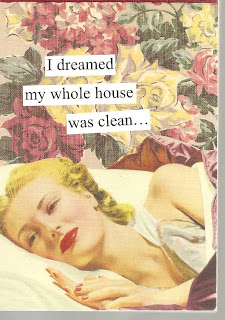 Continuing my top-to-bottom house cleaning venture, this week I tackled the playroom, living room and kitchen.
PLAYROOM
Over the years we've been blessed to have bedrooms big enough to bunk the boys together. In the last two homes, this has freed up an extra room as a designated play space. Since I'm not the most diligent in having my children clean up multiple times per day – or even once – I love the benefit of a playroom. The mess stays inside, and I can just shut the door and pretend it doesn't exist.
Since we moved, most of the toys have stayed in boxes in the garage. We didn't have infrastructure (shelves, tables, boxes) set up to contain the toys, so it seemed better to go without them. Interestingly enough, my kids have not missed the 75% of their toys that they haven't seen since August. At least they haven't complained about it.
Cleaning the playroom involved dusting, vacuuming, purging some videos and video games, and getting some infrastructure ready. While I don't intend to bring out 100% of their toys, I do want them to have access to a few more playthings. We've got toddler toys that haven't seen the light of day for awhile that I know the girls would enjoy. So, once I make my way around to the garage, we'll bring some of those things in.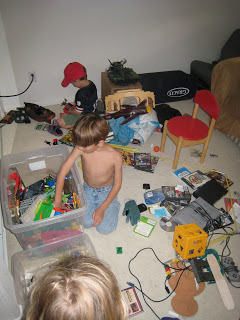 I spent several mind-numbing hours sorting Legos from Playmobil. Curse the one who invented such small, chokable pieces! But, for the moment the two are separate and I think it's more fun for the boys to play.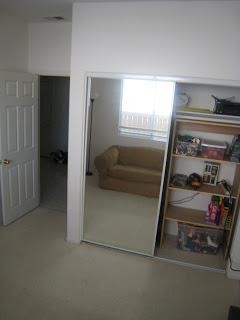 LIVINGROOM
High shelves are my nemesis. They invite clutter to congregate. I'm trying to make this my penicillin location. Going to clean it off as often as possible to keep this niche a little more appealing.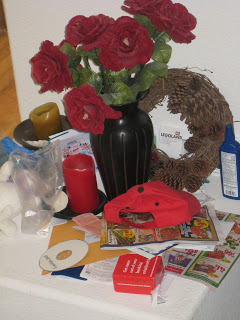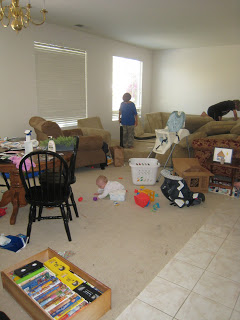 Our living room is a pretty simple environment. We don't have a ton of decor going. To be honest, until our house sold in KC, I had a hard time attaching myself to this home. Now that I'm ready to, we are discussing possibly moving to a different rental, so decorating is shelved for the moment. But, honestly, the sparseness is kind of refreshing — at least when it's cleaned up.
Everyone got into the act in this room. We emptied all the drawers in the media cabinet, turned the couches upside down, vacuumed the blinds, you name it. Even the boys were amazed at how nice it felt when we were done.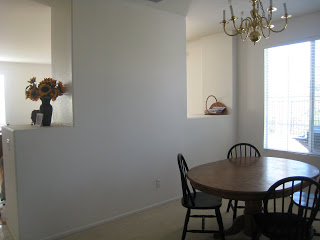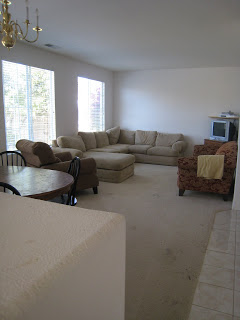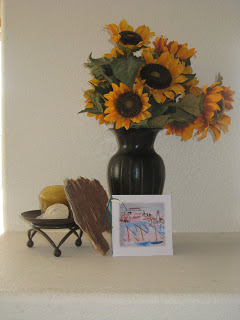 Ahh…much better.
KITCHEN
I didn't get very far in here. It seems that the best laid plans often go awry. FishChick, age 2, came down with chicken pox this week! My oldest three had them five years ago, one so badly with complications, that we chose to vaccinate the rest. FishBaby was to have her shot in August, but she probably won't need it as I think she'll be getting some natural immunities in the next couple weeks when she catches them from her big sister who was vaccinated. So much for that plan.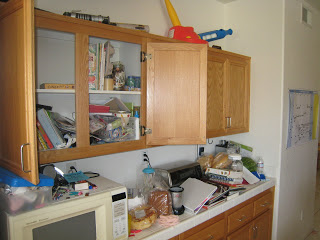 I did sort through my cookbook cupboard and all the junk that had been stuffed in it. I'm hoping that the rest of the kitchen will get dejunked in the next few days. Slow and steady wins the race, right? Stay tuned….
Have you got the itch to pitch? Check out the Happy Housewife for her dejunking roundup.