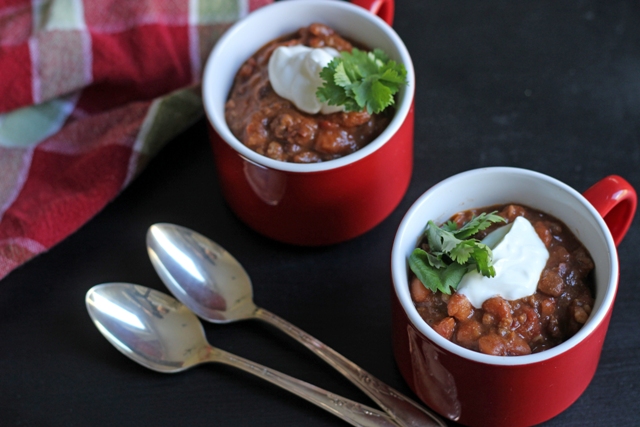 A few month's ago, my friend Amy from Mom's Toolbox and VineSleuth Uncorked emailed asking whether or not I had any easy meal plans here at Life as MOM. I've been trying to get her on the freezer cooking band wagon for awhile now. I can't remember her exact objection, but she said something like it intimidated her and what about cooking a week of food at a time?
After kicking around some different ideas with my sister Janel, we decided to revamp the weekly menu plans so that they build on one another and include a list of prep-ahead tasks. After all, one of the biggest time-saving strategies about freezer cooking is that the recipes share common ingredients and that you do all your chopping, dicing, and slicing at one time.
Why not apply these same techniques to a weekly meal plan? You can shop once, prep once, and then throughout the week do the assembly. I tested the first one out a month or two ago and was thrilled with how easy it was! Meal plans that build on one another are the way to go. Janel, ever the frugal law school wife, insisted that the meals average $10 or less. With a little tweaking, that's the plan for
This Week's Dinners for $70 or Less.
I'm really excited about how these plans work together. They are meant to feed 4, but I stretched each one just a bit to feed 8, so when push comes to shove, you can make it happen.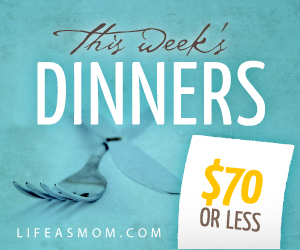 With "This Week's Dinners for $70 or Less", you'll get…
7 meals plus side dishes
In our previous plans, they included only five main dishes per week figuring that families may eat out once a week and use up leftovers on one night. For some families, eating out is not an option and for others there just aren't any leftovers to be had. So, we decided to increase the number of meals included in each plan.
If you don't need the 6th and 7th suppers, you can carry them over to another week, prep and freeze, or serve them for lunches, which is what I did.
Our older plans also included only one or two side dishes so that you could add your own to flesh out the rest of your meals. With these plans, we've added in some side dishes for each meal so it really makes it easy for you. No adding to the list needed. Just print the list and shop. Of course, if your family doesn't dig what's on the plan, feel free to swap it out for something different. Be sure to read the plans and grocery lists carefully so that you can make necessary tweaks.
Meals that build on each other
One great way to save time and money is to plan meals that build on one another. The roast chicken from one night contributes to the chicken pot pie another night. By creating these "Werewolf Meals" — they turn into something else the next night — you effectively use up leftovers and save time in the following evening's meal prep.
It's a bit tricky to plan meals that are different enough to stay interesting, but still make a cohesive plan. We'll do the work for you.
A suggested order of preparation
Since the meals do build on one another, we'll offer a basic suggestion for meal order. Feel free to move things around, but know you might have to do some extra work to make it all jive together.
A week's worth of meals on a $70 budget
Obviously, we can't guarantee that the meal plan will only cost $70 because food prices fluctuate across the country. Where you live and where you shop can make a huge difference in your bottom line. But, we've done our best to test out the plans to make sure that you can fill your cart for approximately $70.
Janel and I live on opposite coasts but shop at two common venues: Trader Joe's and Walmart. We've done some price comparisons and feel comfortable with the price tags we're putting on things. Your mileage may vary based on food costs in your community and/or what you've already got in your pantry and freezer. (Remember, you save money using what you have instead of letting it go to waste.)
We're eager to share the new plans with you. We're tweaking and testing to make sure they are just as helpful as can be. In the meantime, check out the meal planning archives and the 40+ FREE printable meal plans, and take the week off meal planning!
And if you've got a request, well, speak now or forever hold your peace. 😉
What's in YOUR dream meal plan?
Meal Plan #1 – Chicken Tenders – The first meal plan is here! Grab this Chicken Plan that can be shopped at Trader Joe's for extra ease. There won't be any special ingredients that you can't buy elsewhere, but if you love TJ's, you'll love this plan. (chicken sliders, chicken & bean burritos, salsa verde chicken, sausages and rice, tortellini pasta salad, soup, and pizza)

Meal Plan #2 – Mostly Meatless (green chile burritos, cheese enchiladas, egg sandwiches, Popeye's burgers, meat sauce and pasta, vegetable soup, pizza)

Meal Plan 3: Pretty Meaty (pasta with meat sauce, chili beans soup, pizza, tacos, sandwiches, and chicken)