As Common Core Math has been implemented in schools, it has left many parents scratching their heads. But, is it all bad? Life as MOM contributor JessieLeigh shares her thoughts on Common Core Math.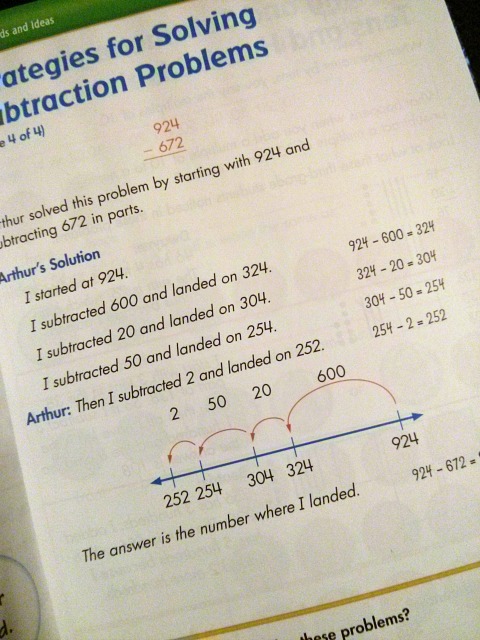 Over the last couple of years, a majority of states and their corresponding districts have made the decision to align their curricula with "common core standards." As word of this spread, so did panic and the result was a terrifying mix of legitimate concerns and exaggerated claims.
No matter where you stand on the whole "common core debate"– and, believe me, I am not judging you either way– one thing seems to be consistently true for most parents trying to navigate this new world:
Common core math is confusing.
It doesn't matter if math was your favorite subject growing up or you just barely got by. It doesn't matter if you were a straight A student or considered a C to be a huge success. I honestly don't think I've met a parent yet who looks at the new math programming and says, "Ah ha! Yeah, sure. I remember that." Because we don't. It's different. And it's confusing.
Confusing things frustrate us. We scratch our heads and wonder, "Seriously? Why am I making a number line here? We're adding two digit numbers. Stack and carry, baby, stack and carry. That gets the job done." When we have a tried and true technique upon which we've relied for ages, it can be maddening to be asked to do what is, essentially, more work.
I get that. Trust me when I tell you– I get that. I loved math growing up and I find myself getting irritated at some of the new techniques that are now the norm. They seem tedious and sometimes convoluted and, well, frustrating.
So why are we doing it? What, at the end of the day, is the point of this? Politicians and administrators throw things out there about "raising global thinkers" and "encouraging STEM careers" and "competing with other nations." There are a lot of catch-phrases leaking their way through media and, often, these just make us shake our heads some more.
Instead of spouting lines like that, I'd like to share what I've witnessed as a parent and a substitute teacher of the K – 5 set.
Many, many children are successful learning to do math the way you and I were taught it. They can absolutely learn to stack and carry or borrow and apply it to the average word problem. And that's great!
However, in any given class, there are also several children for whom that method just doesn't make sense. These are the kids who, back in the day, were pretty much just labelled "bad at math" and it was left at that. Those students muddled through in order to graduate and, to this day, probably self-identify as "not good at math." This is just how it was and we all accepted it as inevitable.
Here's the big thing I want you to know– for those children? For the little group who struggles with traditional math? These strategies can provide an "ah ha!" moment they would otherwise never experience. Being shown how to draw a number line, sketch out ten-sticks, or apply a hundreds chart can open doors for the frustrated student.
And that is a beautiful to see.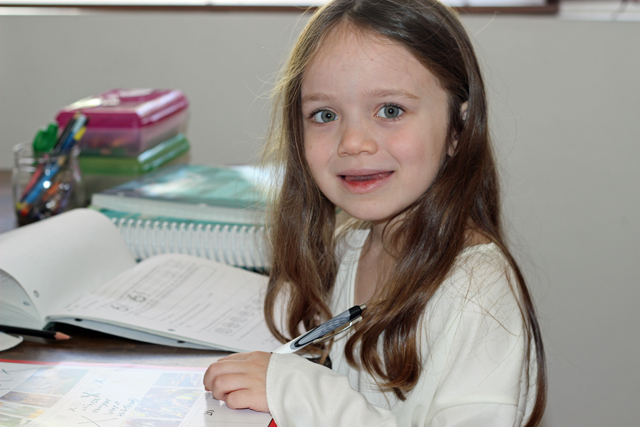 Still, is it fair to ask all these other students to learn these new crazy methods? I mean, sure, it might help a few, but why should the other ten to fifteen have to jump through these hoops if they can solve it the old-fashioned way?
Well, to answer that, I will simply point out that that's really nothing new.
Back when we were in school, there were kids who could solve the problems in their heads. Perhaps you were one of them. And, while your teacher may have told you that was great, I'd be willing to bet that you were also asked to "show your work." Maybe, like me, you would jot down the answer and then backtrack to create the actual work on paper. You may have rolled your eyes or felt like it was overkill– but you did it, because that was the expectation.
That's what kids are still doing. There are absolutely children who prefer to solve problems the way we were taught. It's okay if they do it that way… as long as they can also prove their work by applying one of the strategies they've learned.
When all is said and done, will these kids have to draw number lines for the rest of their lives in order to add 23 + 68? Of course not. The day will come when, as long as they can accurately solve it, it doesn't matter. If you think about it, it was the same for us. Is anyone yelling at you to show your work when you solve a problem these days? Nope. That was just one rung on the ladder and you've passed it.
So.
Common core math is confusing.
For us.
But it IS opening doors for some students. I see children every day who are able to solve problems because they've discovered a strategy that actually makes sense to them– a strategy we never had because the majority of us got it and that was considered good enough.
Please believe me when I tell you that I feel your frustration. I have rolled my eyes and let out sighs and turned to my husband to say, "really????"
But I do want people to know that common core math is not all bad… and the reason has nothing at all to do with politicians or businessmen. It had to do with those kids who can finally say, "I understand how to solve these math problems."
Related Articles: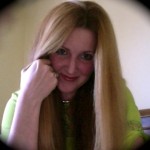 – A mother of three, including a 24 week preemie, JessieLeigh is a determined advocate for even the tiniest of babies. She can be found celebrating life's (sometimes unexpected) miracles and blessings at Parenting Miracles.
You can read all of Jessie Leigh's posts for Life as MOM here.