I don't know about you, but when I was a kid, eating a TV dinner was an event. It usually only happened once-in-awhile, but what fun to stroll the frozen foods aisle, gawking at the photos on the packages and trying to choose just one. And I suppose I date myself when I recount my joy at peeling back the layers of foil wrapping the meal, after Mom pulled it from the oven.
Yes, foil. Yes, the oven.
If you had showed me this photo twenty-five years ago, I would have been shocked to know it was a TV dinner.
Recently, my children recaptured that joy for me when we reviewed a variety of meals from ConAgra. Look at them! They're such hams!
ConAgra, the makers of Banquet, Marie Callender's and Healthy Choice meals asked if our family would try out a selection of their frozen dinners and give them some feedback. You know us, we love to eat and we're full of opinions, so I said, "Yes." And don't forget the fact that feeding SIX KIDS is a lot of work each day, so I was happy to have a break. While not required to do so, I thought you might like to hear our feedback as well. These frozen meals go on sale quite often, and you might wonder about stocking up. We tried these out for three school days in a row.
The Banquet meals were fairly unimpressive, but the Healthy Choice and Marie Callender's meals went over quite well.
The funniest comment from my tween: "I can choke down these carrots better than the ones you make." I consider this high praise, since I think my carrots are pretty good, thank you very much! In fact, the dinners exceeded his expectations, "These are better than I thought. I expected them to be really gross."
Overall the boys liked the meals that they tried. They would prefer to ditch the carrots, reduce the gravy, increase the amount of potatoes, and increase the apples in the Caramel Apple Crisp. But they commented that the portions seemed large and that the veggies were good. (My kids aren't huge vegetable fans, so this is a supreme compliment, despite how good my own veggie cooking is.)
From a mom perspective, I enjoyed having them critique something that I didn't cook!
But seriously, these were not bad at all. The average prep time is about 6 minutes. This is great if you just have one mouth to feed or eat at staggered meal times. However, it was a little cumbersome to stand at the microwave for 30 minutes, rotating meals in and out. I was thankful that many meals can be heated in a conventional oven. We tried it that way, placing five meals in at one time; that worked much better.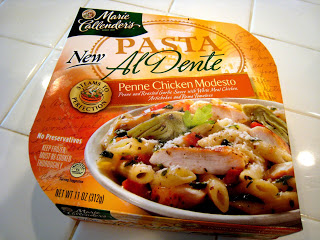 My favorites were the Marie Callender's Pasta al Dente. The packaging is a clever concept of two tiered bowls, the bottom holding sauce, the top holding noodles. The steam from the hot sauce helps to warm the noodles in the upper, colander-type bowl. The flavors were good, spicy with a zing.
The packaging for all these meals, however, is a little bulky. Unless you have a large freezer, it may be difficult to stockpile these items. However the sales and coupons seem to be prolific, so I think they could be worth some grocery budget if you've got room to store them.
Currently, ConAgra has a Facebook contest going. The Grand Prize is a $10,000 family vacation. To enter, upload a short video sharing what you would do if you had an extra 30 minutes a day. Contest is open until October 25th. Wouldn't that be FUN to win? If you enter, let me know so we can look to vote for you on the 26th.
Have you tried any of these ConAgra meals? What do you think? I'd love to hear your opinions.
Disclosure: I received a $50 gift card to Walmart in order to purchase these frozen meals so that I could gain first hand knowledge of these products and share our family's experience with ConAgra. I was not required to write a review, but have done so because I think this is valuable information for my readers who I know want to be savvy shoppers.