Tired of wasting precious time looking for a missing shoe or vanishing purse? You dream of organizing your life, but is it possible to conquer your clutter?
This post contains affiliate links. If you make a purchase through one of those links, you help keep this site up and running. Thanks for your support!
You've got great reasons for wanting to be more organized.
You want the best for your family.
You want to teach your kids to live in calmness, not chaos.
You want to be patient without losing your ever-lovin' mind in the insanity of so much stuff.
And you just want to savor the time you have, instead of running around chasing clutter.
But sometimes it just feels so hard.
Maybe you've tried to get more organized before, and failed. Or thought you found the perfect system, only to have it not work for you at all. You're not alone.
What I find helps me in those situations is to do some research. Simply reading a good book on organizing usually gets me energized and motivated. So motivated that I sometimes don't finish the book so that I can get putting order to my chaos.
Sure there are lots of organizing books in the world, and yes, some of them do say the same things. I've found that reading a new take or a fresh perspective — even on the same subject — can be just the boost I need. In fact, I regularly add organizing books to my stack because I know I need the reminders and the extra motivation.
When you have the right info and tools at your fingertips, it's so much easier. You know which papers to keep (and which should immediately be thrown away). You're more confident in saying no to the things on your calendar that don't matter (and yes to the things that do). You start learning the difference between what you really need and what will just add to the clutter to your home. You feel less stressed (and you'll probably enjoy life more, too).
You stop second-guessing and actually start doing the work.
I'm excited to tell you about the Conquer Your Clutter Super Bundle. It's back for just 24 hours TODAY!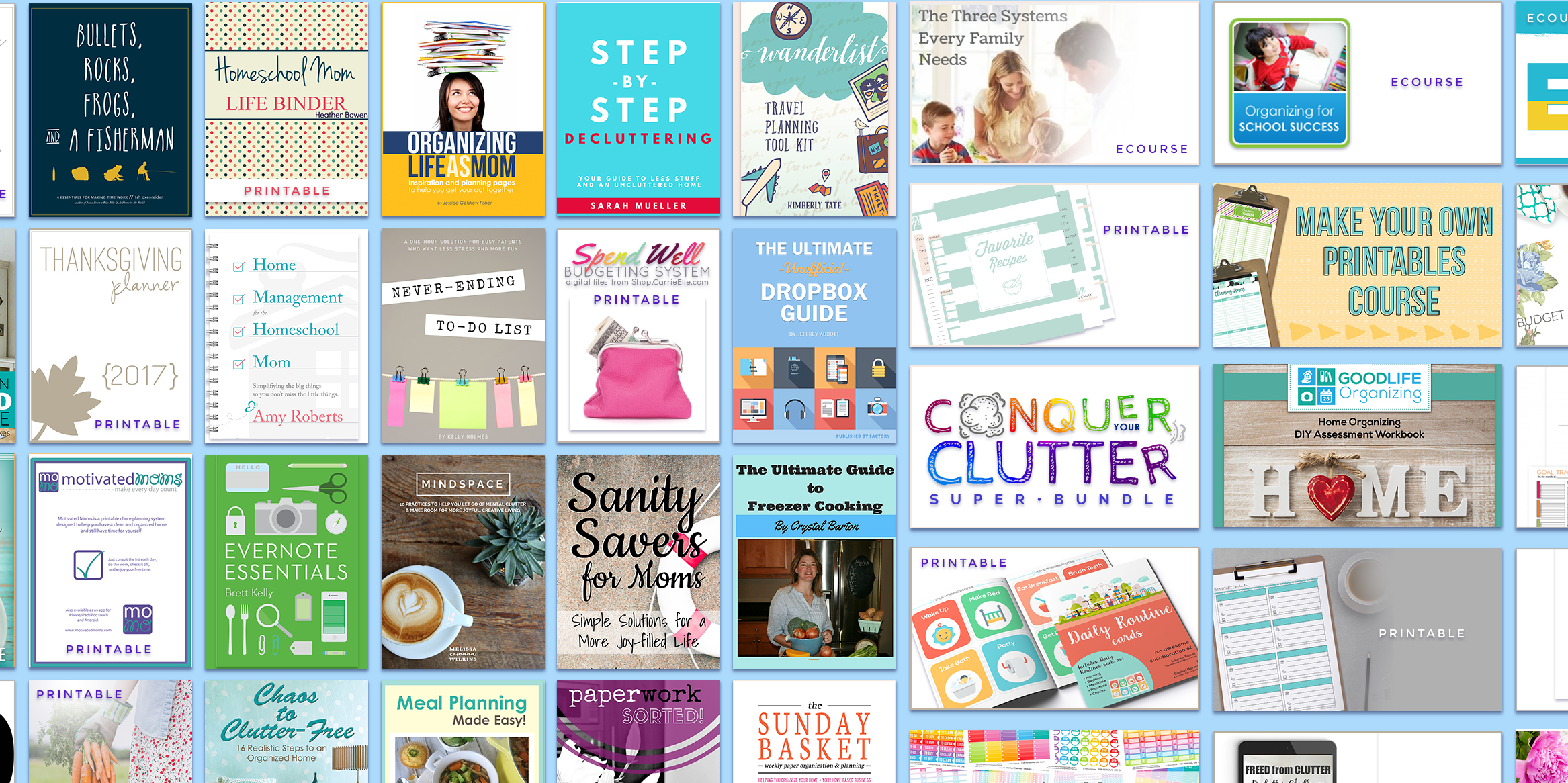 You sort of need to see it to believe it, but the package includes 38 digital products on topics like how to organize your photos, decluttering, family systems, meal planning, time management, and much more. All together, it's worth over $650!
It includes my book Organizing Life as Mom, a primer for setting your life as mom in order and putting together a household notebook. As you know my e-store currently doesn't sell to the EU because I'm just not set up to deal with VAT, etc. This bundle is a great opportunity for my friends in Europe to get a hold of my first and best-selling ebooks.
Plus, the bundle comes with two brilliant bonus offers worth over $40:
SaneBox – An exclusive credit to save you 12 hours per month ($20 value)
YNAB – A FREE four month trial to the popular budgeting software ($20 value)
This Conquer Your Clutter Super Bundle is available for just 24 hours! After midnight tonight, January 26th, the sale ends and you'd have to buy all of these products individually.
I'd hate for you to miss out, so click HERE to learn more or buy the bundle.
It's even backed by a full money-back happiness guarantee, so you can know for sure that it's right for you.
No one should have to feel overwhelmed because it costs too much or they can't get the help they need. By finding systems and strategies that really work for us, we can bring calm to our homes and daily lives like never before.