Considering Cable?
We are a participant in the Amazon Services LLC Associates Program, an affiliate advertising program designed to provide a means for us to earn fees by linking to Amazon.com and affiliated sites. We participate in other affiliate programs as well. For more details, please see our disclosure policy.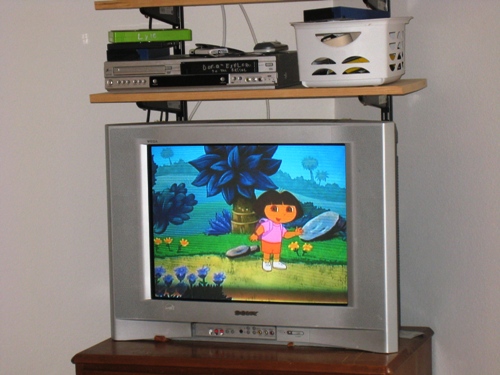 We lived without television for about ten or twelve years of marriage. For the first five we didn't even have a VCR. And we lived a very happy, book-filled existence without TV.
We still live a happy, book-filled existence, but we also watch a little TV now. Four years ago when our family began to embrace football, we bought rabbit ears — and later a converter box —  just for the Chiefs. And about two years ago when our digital converter box failed to work in our area, we got DirecTV — just for the Chargers.
We don't spend a ton of time watching TV. I have absolutely no clue what's on network television. In fact, football is our main attraction with some back up Disney Channel and Food Network every once in awhile. And Dora the Explorer is in the mix, too. In the past, we've enjoyed watching the Olympics as well as the World Cup.
In justification mode, I call it keeping us culturally literate.
Either way, we've been pleased with our DirecTV service. We'd prefer fewer channels for a lower price, but so far, it's been fairly competitive pricing. While cable is definitely on our list of "luxuries," it's one that we've enjoyed adding into our life now that we're out of debt.
Currently, DirecTV has a number of different specials to choose from, including a few extras thrown into their premier package. If you're in the market for a cable package, I think it's a viable option to consider.
Just read all the details carefully and be prepared for a longterm commitment.
Is TV a must-have or a luxury at your house?
PS. If you are interested in signing up with DirecTV, email me. There's a referral program that gives $100 to you and the referrer each. I don't know the details, but it might be a nice way for you to save some change.