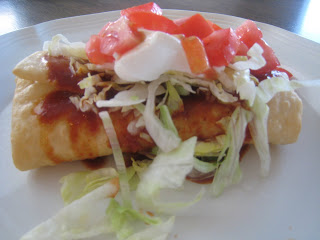 As I mentioned last week, one way I'm cutting corners in April is to avoid any big grocery stops. Rather than spend my usual $125 per week, for the remainder of the month, I'm going to try to just use up what we have. (Thanks, Money Saving Mom, for the inspiration!)
Last week I brainstormed all the things I could make, picked up a few odds and ends, and we ate very well.
Probably the highlight of the menus were the Chimichangas. We recently acquired a new commercial fryer for free! We've had a little too much fun making donuts, french fries, tostadas, taco shells, and chimichangas. Those are one of FishPapa's most favorite Mexican meal. (Basically, it's a fried burrito with the cold fillings on top.) He was feeling pretty happy after dinner that night.
Here's our updated menu plan for April:
Enchiladas, rice, and beans
Tacos
PB Chicken
Chicken Smothered in Onions, mashed potatoes
Boules de Picolat, boiled potatoes, veg
Pizza and Salad
Sausage and Pepper Calzones and Salad
Bean Tostadas
Grilled Chicken and Vegetables, Rice Pilaf, Salad
Oven Baked Ribs, Potatoes, Salad
Spaghetti and Meatballs, Salad, Foccaccia
Chimichangas
Beans and Rice
Pasta with Red Sauce, Veg, and Rolls
Carnitas Soft Tacos, Beans and Rice
Meatloaf and Rice or Potatoes, Veg, and Baguette
Taco Salad
Paella, Salad, and Baguette
Lemon Noodles, Grilled Chicken, Salad, and Bread
Hamburgers, Fries
Shredded Beef Tacos
Chili Dogs, French Fries, Salad
Not sure how to meal plan? Here are some easy steps to help you do that. Want more inspiration for meal planning? Visit Menu Plan Monday.