Cooking 101: For Kids
We are a participant in the Amazon Services LLC Associates Program, an affiliate advertising program designed to provide a means for us to earn fees by linking to Amazon.com and affiliated sites. We participate in other affiliate programs as well. For more details, please see our disclosure policy.
Remember when I told you that I was teaching my boys to cook this year? Well, Cooking 101 for Kids is going to help me pull off that goal.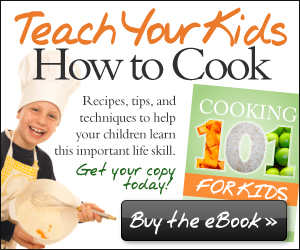 My friend Lynn wrote this book, Cooking 101 for Kids, and sent me a review copy. I love the straightforward approach and all the color photos included to help kids understand the basics of cooking. I'm going to be loading it onto our family computer so that my guys can start reading and choosing recipes.
You can buy a copy for the introductory price of $2.99. The price will increase in a short time.
Disclosure: I received a review copy of this book and belong to Lynn's affiliate program. However, I would tell you about this book anyway. I think it's vital that our kids know how to cook.