When I lived in France during my junior year in college I developed a taste for coffee and tea. I loved to have it with cream, but fresh cream was expensive. And I was, after all, a "starving college student in Europe." One of my fellow Americans introduced me to canned evaporated milk. Sold in tiny cans it was the perfect solution to my coffee creamer dilemma. Evaporated milk is merely fresh milk that has been heated to remove some of the water. Condensed, it is a perfect substitution for cream with more calcium and protein per serving. It can be used in virtually any recipe calling for milk and sometimes those calling for cream. (That's going to depend on the recipe.) One of the added benefits is that it has a longer shelf-life and needs no refrigeration prior to opening.
Recently I was approached by One2One Network and Carnation Evaporated Milk to test one of their recipes as well as one of my own, using The Cooking Milk. They graciously provided me with a gift card to purchase ingredients and two coupons for free Carnation Evaporated Milk. I was sent a copy of their Holiday Recipe Guide. You can request one to be mailed to your address or download it online.
Since potatoes and bacon are such a great Fallish, Footballish combination of flavors, I made the Loaded Potato Potluck Favorite. Oh my! The recipe is delicious. Even my potato-hating FishBoy liked it. One kid who has an aversion to the word "casserole" did not care for it. Not sure what's wrong with the boy, 'cause this was good stuff. FishPapa called it a Naked Twice Baked Potato. There we have it.
For our own recipe experiment, I substituted evaporated milk for the cream that's called for in my blueberry scones. They were a little moister than normal, but still very good. We didn't notice any difference in flavor. And, of course, I made them in miniature.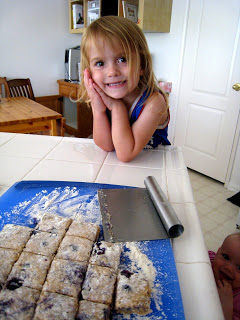 I think keeping canned milk in the pantry is a great idea, especially considering that the price of fresh milk is on the rise. You could easily use canned instead of fresh in most of your baking without noticing a difference. Keep your eyes open because sales will abound in the next few months. Evaporated milk is often a "called for" ingredient in many a holiday recipe. Last year I was able to get several cans "for free" after sales and coupons. I imagine that will be the case again this season.
Disclosure: Carnation and One2One Network provided me with two free cans of evaporated milk as well as a gift card to cover the expense of the ingredients needed to prepare these recipes. I was not compensated in any other way. My opinions shared here are just that — mine.
Encouraged by what you've read? Subscribe to LifeasMOM by email or in a reader and join me on the Road to Joyful Motherhood.