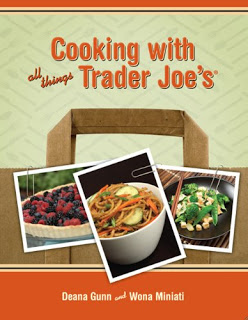 When we lived in Kansas City, one of the places that FishPapa and I missed most, believe it or not, was a little specialty grocery store called Trader Joe's. They are ubiquitous throughout Southern California and in a number of states, but alas there was not a single location in the great state of Kansas. Those of you who haven't had the pleasure of a TJ's should know that almost everything they sell is gourmet, "healthy," and yummy.
OK, I lied about the everything is healthy part. But they do try. Lots of organic and all-natural items are available for less than you would pay elsewhere. Trader Joe's isn't as cheap as I remember it back in the old days, but, then again, I am cheaper than I used to be. So, who knows? But, they won't sell something unless they can beat the prices of their competitors. And they have lots of delicious items. In fact, it is our go-to shop for vacation food. A little more exciting than the average grocery store, TJ's has "fun food" galore.
I am partial to their hummus and potato chips.
Recently, I was sent a cookbook that is designed to use all sorts of Trader Joe's products. At first I wondered if Cooking with All Things Trader Joe's by Deana Gunn and Wona Miniati would be pointless for someone stuck in the middle of Kansas without access to TJ's. But, no, it's not. In fact, the recipes are written so that no matter where you live, as long as you can get to a decent grocer, you can prepare a lot of the recipes in this book. I won't say all, but a lot.
Written by two moms, the book is designed to show you how to take the convenience items of Trader Joe's and transform them into homecooked meals. Though the ingredients may be "gourmet," they're still family-friendly. Recipes like Antipasto Pasta Salad include chunks of ham, fresh mozzarella, roasted veggies, and olives. The Baja Quesadilla is easy to asemble with chicken, salsa, cheese, guacamole, tomato, and cilantro. Yum!
If you've got a Trader Joe's near you or even if you don't, I think you'll enjoy perusing this book and trying your hand at some of the recipes which make my mouth water just thinking about them. Today I have three books to give away!
Like this week's other giveaways, there are three ways to enter:
1. Leave a comment here telling us about your favorite thing to get at Trader Joe's.
2. Participate in this week's Ultimate Recipe Swap by linking up a beef recipe or leaving a comment.
3. Tweet this giveaway on twitter – make sure you use @fishmama – and leave a third comment telling me you did so.
Comments left between now and Sunday night, 8 pm, PST, will be eligible for winning. Winners will be chosen at random and announced sometime next week. Please make sure that you leave a way for me to contact you in case you win.
*Disclosure: I received this cookbook for free in order to review it. I was compensated in no way for this post.