The Cost of Being Frugal
We are a participant in the Amazon Services LLC Associates Program, an affiliate advertising program designed to provide a means for us to earn fees by linking to Amazon.com and affiliated sites. We participate in other affiliate programs as well. For more details, please see our disclosure policy.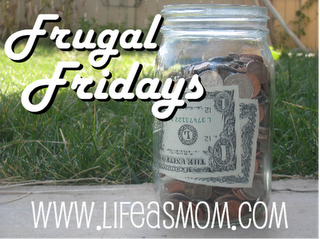 Most people, when the word frugal comes to mind, may think about all that it will gain them. And it's true. There are huge benefits to being wise with your money. Reducing or eliminating debt, saving for a rainy day, saying no to some good things in order to enjoy better things, educating your children, providing for your retirement — these (and more) certainly make dollars and sense.
However, there are some costs to consider as well:
1. You can't always do what you want to do. (Welcome to Real Life.)
2. You might not wear the latest fashions as soon as they come out. (Half the time they look goofy anyway.)
3. Vacations might not always be poolside in the tropics. (But, a staycation can be just as much fun.)
4. Hobbies like scrapbooking or hang gliding may give way to obsessions like coupon clipping, sales shopping, and repainting old furniture. (Your creative muse will still run wild as will your sense of adventure.)
5. People may look at you funny when you reveal your huge box of coupons. (It's a great conversation starter, and one can always use a few more friends.)
6. You may find that having less is actually more.
Got a great money-saving idea? Share it with us! In the interest of exchanging good ideas, please do not post affiliate links, giveaways or deal posts. Instead tell us what you do to stretch your dollars a little farther. Share concepts and ideas that have helped you grow in saving money and being a better steward of your resources.
Write about your money saving tip on your blog and bring the permalink to that post here. Please make sure that you link to LifeasMOM.com in your post.
If you don't have a blog, tell us your bright idea in the comments. Can't wait to learn some new tricks!