Count Your Blessings
We are a participant in the Amazon Services LLC Associates Program, an affiliate advertising program designed to provide a means for us to earn fees by linking to Amazon.com and affiliated sites. We participate in other affiliate programs as well. For more details, please see our disclosure policy.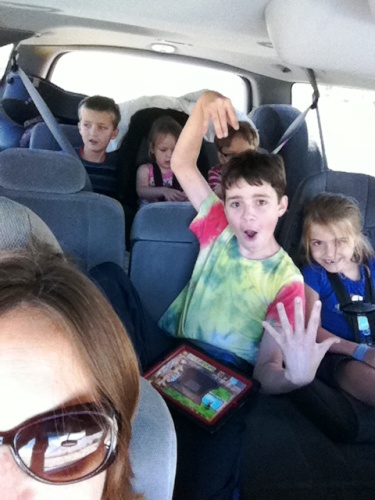 My cup runneth over. Good friends just drove away after a fun-filled weekend of laughs and good food and quite a few dart gun fights among our combined eight kids.
The extra win was that no one went to the ER.
These are friends that we've known for close to seventeen years. They kept hospital waiting room vigil during my labor with FishBoy15. And they've stuck with us during our To Kansas and Back Again years.
It was a good weekend. And a good reminder of the many blessings in my life. My cup runneth over.
Yet, I don't always believe that. I can feel wearied by the tasks at hand or grumpy that some particular circumstance isn't going my way. In reality, I know that we're each extremely blessed.
If you're like me, it just might be helpful to take ten minutes to jot down the first blessings that come to mind. Counting our blessings is a wonderfully, refreshing way to remember those important things that bring meaning and value to life. They also help us see how much the good really does overshadow the bad.
A husband who loves me and still thinks I'm hot, even at 40
Good kids whose worst faults are minor squabbling among themselves and leaving dirty socks everywhere
Old friends with whom we can always pick up where we left off
Parents who think I'm practically perfect
Yummy food
A clean(er) house
A nice glass of Merlot
The opportunity to write blogs and cookbooks
You
What are you thankful for?
Counting your blessings is a great way to stop and smell the roses.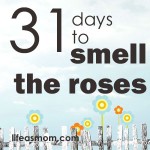 The days are long, but the years are short. I don't want to miss them! For more short and sweet ideas on how to stop and smell the roses, to enjoy the little things in life, check out my 31 Days to Smell the Roses series.
Don't miss a post in this series. Subscribe to 31 Days to Smell the Roses by RSS or email.