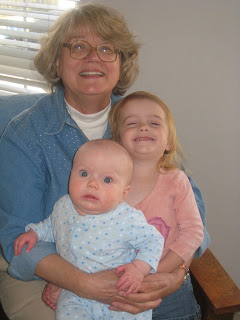 I seem to have been in a funk lately. A little hormonal. A little out of sorts. Last night I was wracking my brain trying to figure a way out. The thought came to me to write out a list of I'm thankful for's. While this doesn't necessary solve every ill in the world, it is certainly a great reminder to me of how good God is and that He cares for me and mine.
God has blessed me this past week with:
1. My mom who makes it a priority to brave the traffic to spend time with us, to spoil us, to love on my children. I love to make her laugh.
2. A great dermatologist who I really connected with and who was able to discern some of the causes of FishBaby's eczema and prescribe a treatment that appears to be working.
3. A new "donut machine"
4. A tax refund
5. An old vehicle that continues to run despite its age and various maladies.
6. My husband who cheerfully washes dishes, changes diapers, and apologizes to me when he gets called into work at 8 pm on Sunday night for an emergency. Rather than grumble about the inconvenience to him, he is concerned about the inconvenience to me.
7. Asian Chicken and Noodle salad
8. 6 healthy and bright children
9. My 6-year old who asked, "Mama, are Bibles more expensive than other books? Because I think that since it's God's Word and it's so important, that it should be more expensive.
10. God's Word – how easy it is to take for granted something so easily obtained, which, in reality, has been quite costly to many people over the centuries.
What blessings can you count today? Share them at Gratituesday.