Counting My Blessings
We are a participant in the Amazon Services LLC Associates Program, an affiliate advertising program designed to provide a means for us to earn fees by linking to Amazon.com and affiliated sites. We participate in other affiliate programs as well. For more details, please see our disclosure policy.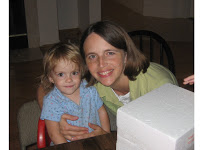 During Thanksgiving meals when I was a kid, Mom inevitably suggested that we go around the table and share what we were thankful for. For some reason, this always embarassed me. For the life of me, I can't figure out why.
Nowadays, what embarasses me is that I don't count my blessings more often. God has been SO good to me. It is simply awe-inspiring.
So, in honor of the day and moms everywhere who'll be posing this question, here's what I'm thankful for:
1. my husband who lovingly puts up with all my fears and foibles and can always make me laugh
2. six fun, healthy kids
a. FB 11 – my right hand man
b. FB 8 – my peacemaker and funny face maker
c. FB 6 – the passionate artist
d. FB 4 – my little dude who is quick to say, "Manks, Mama" when I make a dinner he actually likes!
e. FishChick – my sidekick and helper in all things
f. FishBaby – sweet and pudgy and full of smiles
3. good cheese, good bread, good wine
4. friends like Jessika who drop everything to come help me unpack or Shari who scrubs my empty house after moving and ships me the good silver that I forgot to pack or Sheila who always listens to my rants and can laugh at me.
5. my parents who have stayed married for 41 years, despite the bumps along the road
6. four siblings who love me despite my bossy ways
7. my mother-in-law who raised three boys on a limited income on her own and is now bravely fighting cancer a second time around
8. my father-in-law who proves that you can teach an old dog new tricks
9. his wife, my kids' G'ma Marilyn, who has helped him learn those new tricks
10. Peets coffee
11. vanilla Coke
12. my 96 Dodge Caravan that is still going strong
13. Dave Ramsey and The Total Money Makeover
14. the 18K we have paid off in debts over the last 18 months!
15. Toffee Dream, Streusel-Topped Pumpkin Pie, Pretzel Berry Dessert
16. Starbucks Mocha Frappuccino
17. my freelance writing business that enables me to supplement our family's income without paying a babysitter
18. beautiful sunsets
19. bright sunshine on a crisp morning
20. roasted garlic and baked goat cheese on sourdough bread
21. Jane Austen
22. ChiChi's Pizza
23. coupons
24. Great money saving blogs like Freebies4Mom and MoneySavingMom
25. the freedom to homeschool my children
26. moving back to California when it always seemed like an impossibility
27. the ocean
and last, but most important: Jesus