Coupons: You Gotta Know How to Hold 'Em
We are a participant in the Amazon Services LLC Associates Program, an affiliate advertising program designed to provide a means for us to earn fees by linking to Amazon.com and affiliated sites. We participate in other affiliate programs as well. For more details, please see our disclosure policy.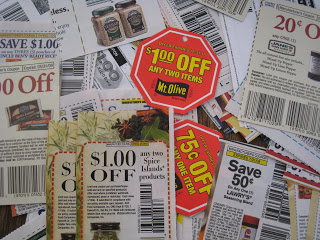 Ok, so you've got your coupons. Now what?
Stash them in your wallet? Put them in an envelope? Spend a ton of money on a multi-compartment, fancy schmancy coupon organizer?
Well, that depends. There are all sorts of ways and means of organizing your coupons. Some people use boxes. Others special bags. Still others have their coupons filed neatly in binders.
The important thing to remember here is to organize them so that you will find what you want and therefore, use them. But, you have to find a way that works for you. If you can't find the coupon quickly and easily or if you won't use the organizational method you've got going, then that method isn't for you.
I can only speak for what works for me. The next woman may have a better way, but my way's not broke, so I'm leaving well-enough alone.
Last year I started out with this: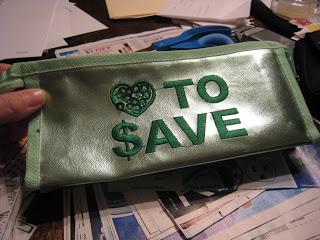 My sister gave me this green coupon purse one Christmas years ago, filled with money and gift cards. I had no inklings of couponing back then. Little did she know… But, in the beginning I was able to put it to good use. It attracted quite a few comments from fellow shoppers as well. Kind of like when I take my kids out shopping dressed like this: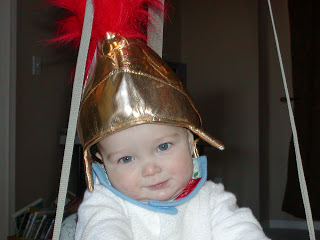 However, I quickly outgrew my cute little green satin and sequin coupon bag. Then I went to this: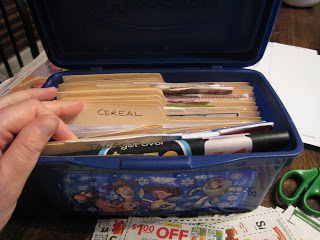 I transferred my stash to a Huggies wipes box. While it wasn't super stylish, I liked it because the lid was attached. It worked well until my coupon collection exceeded 4 inches in depth. Then I graduated to this:
Now, I still attract attention, but for different reasons.
I actually got this idea from Crystal, so I can't take credit for its brilliancy. In fact, I was resistant to this idea. I didn't want to switch from my Huggies box and its cute manila folder dividers. But, this totally works. Crystal gives an in-depth explanation here, but here's my paraphrase.
You'll need:
a box with a lid (I just used what I had in the cupboard)
envelopes
index cards
a stapler
a list of categories that your coupons fit into
Each family's coupons may differ from the next one's. So, don't feel like you have to have the same envelopes. But, to give you an idea, my categories are as follows:
Baby
Baking
Beverages
Breads
Canned and Boxed
Cereal
Cleaners
Dairy
Dental
Feminine Products
Fresh Produce
Frozen Dessert
Frozen Food
Frozen Veg
Hair Care
Laundry
Make-up
Meats
Medicine (divided into subcategories of allergy, cold, 1st aid, pain, supplements/vitamins, tummy, and other)
Mexican
Misc (usually includes things like batteries and light bulbs)
Organic
Paper Products, Plastic Bags, and Wraps
Shaving/Deodorant
Skincare (includes soaps, lotions, wash)
Snacks (divided into chips/pretzels/mix/popcorn, nuts/seeds, bars/gummies/fruit snacks, candy, and cookies/crackers/puddings)
Spreads, Sauces, Dressings, and Other Condiments
Now, once you have your list, write the category on the top of each index card. Slip it into an envelope and staple it to the back of the envelope. The envelopes serve to hold each category's coupons together while the index card acts as a divider. I find that the envelope system is key to keeping your coupons together. Slit the side open if your coupons are a little too large for the envelope.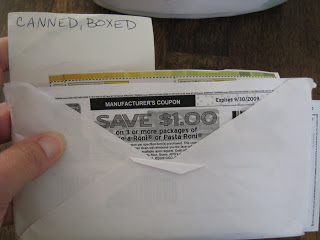 I keep my box of coupons in a large zippered tote bag with the ads for the week in a file folder. Everything I need is in one place. And I try never to leave home without it. You never know when a good deal will beckon you, so be prepared.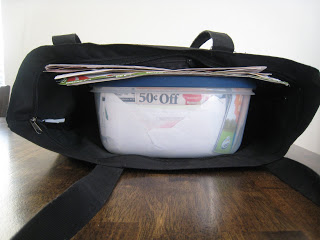 This definitely works for me.
How 'bout you? How do you organize your coupons?
PS Don't forget to browse the offerings at Coupons.com and Red Plum. These change often and have some great coupons to print.
Next week: Shop Listing